Apple Expected to Report Highest Revenue in Single Quarter in Company's History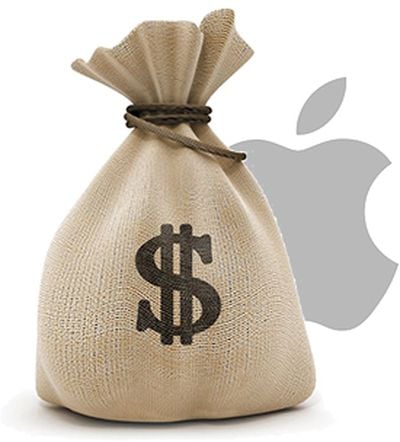 Apple is set to report its earnings results for the first quarter of its 2018 fiscal year at 1:30 p.m. Pacific Time on Thursday.
The quarter reflects Apple's sales between October 1 and December 30 of 2017.
Apple provided the following guidance for the quarter back on November 2:

• revenue between $84 billion and $87 billion
• gross margin between 38 and 38.5 percent
• operating expenses between $7.65 billion and $7.75 billion
• other income/expense of $600 million
• tax rate of 25.5 percent
Apple's guidance suggests the company will easily beat its current all-time quarterly revenue record of $78.4 billion set a year ago.
Wall Street analysts forecast that Apple will report
$87.06 billion revenue
and
earnings per share of $3.83
, according to 29 estimates averaged by
Yahoo Finance
.
A quarter-by-quarter look at Apple's revenue since the 2009 calendar year:


MacRumors has compiled fiscal first quarter estimates from several financial institutions and analysts tracking Apple's earnings results and stock.

Key Takeaways and What to Look For
• Was the iPhone X a hit? Apple began taking iPhone X orders on October 27, roughly four weeks after the quarter began, so investors will be closely examining Apple's total number of iPhones sold to see if the flagship smartphone had a measurable impact. Apple doesn't reveal iPhone sales on a model-by-model basis, however, so its total will include sales of the iPhone 8, iPhone 8 Plus, and older models in its smartphone lineup. Apple's mark to beat is 78.3 million iPhones sold in the year-ago quarter.
As noted by Apple analyst Neil Cybart in his earnings preview for Above Avalon, Apple's average selling price for iPhones will also be an important metric. With the iPhone X starting at $999 in the United States, investors will undoubtedly be looking for an increase in how much customers are spending on iPhones.
• Will the HomePod delay have any affect? Apple originally said that its HomePod speaker would launch in December, which would have been within the final month of the quarter. Instead, orders began last week, after the quarter, and this could have a marginal impact on Apple's forecasted revenue.
• How strong will Apple's second quarter guidance be? Apple's forecasted revenue for the second quarter of its 2018 fiscal year, reflecting the January-March period, should prove whether iPhone X demand has significantly declined as suggested by The Wall Street Journal and Japan's Nikkei Asian Review. Apple CEO Tim Cook has dismissed these types of reports in the past, noting that the company's supply chain is very complex and that any singular data point is not a great proxy for what's going on.
• Will there be services growth? Apple said it reached over $30 billion revenue in its 2017 fiscal year for services, such as the App Store, Apple Music, iCloud, and iTunes, making this part of its business the size of a Fortune 100 company. Investors will be looking for continued growth in this category. The mark to beat is $7.1 billion in the year-ago quarter.
• iMac Pro orders began on December 14, roughly two weeks before the end of the quarter, which could give a small boost to Mac sales.


Cook and Apple's financial chief Luca Maestri will discuss the company's earnings results on a conference call at 2:00 p.m. Pacific Time on Thursday. MacRumors will transcribe the call as best as possible for those unable to listen.