Apple Reports Record Earnings and iPhone Sales: $18B Profit on $74.6B in Revenue for Q1 2015
Apple today announced financial results for the first fiscal quarter of 2015, which corresponds to the fourth calendar quarter of 2014. For the quarter, Apple posted revenue of $74.6 billion and net quarterly profit of $18 billion, or $3.06 per diluted share, compared to revenue of $57.6 billion and net quarterly profit of $13.1 billion, or $1.98 per diluted share, in the year-ago quarter.
Gross margin for the quarter was 39.9 percent compared to 37.9 percent in the year-ago quarter, with international sales accounting for 65 percent of revenue. Apple also declared an upcoming dividend payment of $0.47 per share, payable on February 12 to shareholders of record as of February 9. The company currently holds $178 billion in cash and marketable securities.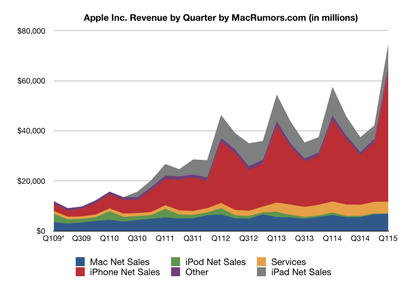 Apple sold a record 74.5 million iPhones during the quarter, up from 51 million a year earlier, while Mac sales were also strong with 5.5 million units sold, up from 4.8 million units in the year-ago quarter. iPad sales were down, however, falling to 21.4 million from 26 million.
"We'd like to thank our customers for an incredible quarter, which saw demand for Apple products soar to an all-time high," said Tim Cook, Apple's CEO. "Our revenue grew 30 percent over last year to $74.6 billion, and the execution by our teams to achieve these results was simply phenomenal."
Apple's guidance for the second quarter of fiscal 2015 includes expected revenue of $52-55 billion and gross margin between 38.5 and 39.5 percent.


Apple will provide live streaming of its fiscal Q1 2015 financial results conference call at 2:00 PM Pacific, and MacRumors will update this story with coverage of the conference call highlights.
Conference Call and Q&A Highlights are available in reverse chronological order after the jump.
3:00 pm: The call is complete.
3:00 pm: A: Each is a different implementation. In some ways there's a different set of carriers in every country. Different set of banks in every country. Processes with merchants are different. It's an area where there's quite a bit of difference country-to-country. Heavy lifting to scale, but nothing preventing us from viewing it as a big opportunity.
2:59 pm: Q: Apple Pay opportunity outside the US, are there unique hurdles in Europe and Asia or is it about pulling partnerships together?
2:59 pm: A: At this point, we don't have all of our research in from all of the people that bought last quarter yet. In aggregate, we saw more new customers to iPhone than we'd ever seen before. We had higher rate of Android switchers than we had in three previous launches. I don't know before that. Between switchers and the people that are just new to smartphones and selected an iPhone and our upgrades which we're very happy with but represent a small fraction of the install base, we feel really good about what's in front of us.
2:58 pm: Q: iPhone 6 Plus brought you into a new segment of the market. You mentioned difference in geographic and Android switchers. What do you think this tells you about ASP and unit opportunity?
2:57 pm: Investing in the business, will never underinvest in the business. Majority of increase will come from R&D, expanded product portfolio, making investments ahead of revenue that will be generated in the future. Invest in marketing and advertising, expanding distribution, taking our brand to more places. Continue to open new retail stores around the world. The idea for us is to continue to invest in the business. Making right trade offs. Results from December quarter give us very good confidence for the future.
2:56 pm: A: Guidance for upcoming quarter only: Guidance for March quarter, guiding to growth in OpEx year over year that is similar to what we've experienced during December quarter. We obviously feel good about business during December, revenue exceeded our growth in OpEx. Going to be quarters where opposite is going to happen. Our expense to revenue ratio during December was 7.4%, was lowest that we've had in two years. Among the lowest ratios that we've ever had.
2:55 pm: Q: Detail on expectations on OpEx going forward, investing in new product but how should that trend over the next few quarters.
2:55 pm: A: If you look at Fortune 500 as an example, we're in essentially all Fortune 500 companies. Issue is not a market share number. Market share is extremely high. Issue is that enterprises generally are only deploying iPads to a small percentage of their workforce. Real opportunity is to bring mobility into the Enterprise and change how people work. In order to do that, need apps that are written to specific jobs. Not just apps that are general productivity like word processors and spreadsheets. That's one of the things that working with IBM provides us. That and the knowledge of the verticals which they bring a significant amount of knowledge on all the verticals that I mentioned earlier. Where can we take that to? I think that if we can change the way people work, the opportunity is enormous. Not hanging numbers out there to be measured on at this point. We don't do a lot of big partnerships. When we do one, it is significant and it is because we really believe in it. We really believe in this one and what it can do for customers.
2:53 pm: Q: When you think about iPad and IBM partnership, can you talk about penetration on iPad in enterprise and how do you see that improve in the next quarter as you roll out more modules with IBM?
2:53 pm: A: Net impact AFTER hedges. Impact without hedges would be larger.
2:52 pm: Q: Gross margin side, 100 basis points of headwind that you're talking about in march, there's still some protection on hedges or raw number?
2:52 pm: Worth pointing out that there are markets where we can't hedge. Cost is prohibitive or financial instruments are just not there to hedge. That's where you get full impact of the volatility.
2:52 pm: A: Typically we have an active hedging program. In the market almost every day. Tend to hedge 3-12 months out. Cases where we tend to go a bit longer. If we feel that we have a strong conviction about certain currencies. Typical period is 3-12 months. As hedges roll off, we replace them with new hedges. Take into account exposure that we have around the world, our most recent forecasts. Hedge accordingly. Feel very good about hedging position and decisions that we've made particularly during the summer. Maybe we need to hedge a bit more than we have done historically.
2:51 pm: Q: Duration of hedge contracts and renewal pattern? What's typical renewal and will you be accelerating that?
2:50 pm: Those groups are there, very excited about all of them. Serving all of them.
2:50 pm: A: Small fraction. A number that's in the mid-teens, barely. So, I say that there's an enormous amount left. Given there are a fair amount of android units out there, also an enormous number of Android customers that could switch. Also remind you that there's a lot of people who have yet to buy a smartphone. Doesn't feel like that in the US, from a worldwide point of view there are a lot of them.
2:49 pm: Q: Small number of user base who have updated to iPhone 6 or Plus. How many of base have upgraded? Pattern of upgrade? Are they older or is it a good spread?
2:49 pm: We were able to get this in a lot of merchants and I give them a lot of credit for that. This is the year of Apple Pay. Some of the things you mentioned and others, all things that we are looking at and in many cases working on.
2:48 pm: On Apple Pay, contactless payment and in app are both important. Will play out different in different geographic regions with which is bigger. Mix will change over time. More commerce will flow across apps and so forth. In terms of how it evolves, we're in the first inning on it. Haven't completed first inning. Tons of things on our road map of adding functionality to it. Just in US right now, tons of countries to go to. Not a day that goes by that I don't get notes from many businesses outside the US wanting Apple Pay. Banks and merchants. Still have merchants in the US, but have to tell you that given that we launched in October, I'm unbelievably positively shocked at how many merchants were able to implement Apple Pay in the heart of their holiday season.
2:47 pm: A: On Apple TV, we had solid quarter with existing product. Sold 25 million Apple TV in total. It's something that we continue to look at and work on and find a way that we can make a greater contribution than what we're doing.
2:46 pm: Q: First, any update on Apple TV or broader vision in the living room? Apple Pay, outlined successes at point of sale. In-app is important? How important is that? How could product grow over time? Consumer to consumer?
2:46 pm: Just shipped new phone a few months ago. Things like that are going on. On the other side, partnership with IBM and work that we have going on in the Enterprise is profound. Really going to change the way people work. Excited about the apps that are coming out. How fast the partnership is getting up and running, can move the dial there. Not predicting 90 day clips and so forth, but long arc of time, I really believe that iPad is a great space, a great product, and with the great product innovation we've got, there's a very bright future for it.
2:45 pm: Usage is 6x our nearest competitor. Usage as measured in web browsing is 71% of total tablets. Also, commerce taking place across the iPads is enormous. Essentially over 80% of commerce on tablets is on iPad. When I back up and look at all of these, I believe that over the long arc of time, the iPad is a great business. I also have visibility to what's in the pipeline and feel very very good about that. Not projecting something very different next quarter or the next. Thinking over the long run. In terms of what I think is going on, what you said is absolutely true. Upgrade cycle is longer, it's longer than an iPhone. Probably between an iPhone and a PC. Not in the business long enough to say that with certainty. Some level of cannibalization with Mac on one side and phone on the other. A little bit of that that is shaking out. How much? Hard to tell.
2:44 pm: A: Optimistic and bullish on iPad. Measured in 90 day clips as we do, in the short run I don't think you'll see a miraculous change in YoY. But, here's what I see and the reason I'm so optimistic. First time buyer rates are very high. I mean, some developed markets like US, Japan, UK, you would find that 50% of people are buying an iPad for the first time. Look in China, it's over 70%. That kind of first time buyer rates, you don't have a saturated market. Customer sat on iPad, literally off the charts, in some cases 100%. Unheard of.
2:42 pm: Q: iPad... you've spoken on prior calls about your enthusiasm for the product. Down double digits from unit perspective and ASP is declining. Comment on whether your bullishness about the iPad persists. Do you believe that it's a replacement cycle that we will see that will drive growth, or is the innovation and product that's necessary and forthcoming that's coming?
2:42 pm: A: Correct.
2:42 pm: Q: Sequentially saying it's about a 2 point incremental headwind on FX?
2:41 pm: Fact that last year in January, we launched China Mobile and subsequent channel fill that will not repeat. Also had very strong quarter in Japan in March a year ago, driven by very significant carrier promotional activities. Pull forward of sales into March in anticipation of a consumption tax increase that took place on April 1. Not gonna repeat. Take those factors into account, that explains the sequential decline that we see this year. 20% year over year growth though.
2:41 pm: A: It is a 20% year over year growth that we're guiding to top end. Feel good about 20% growth. As we look at it on a sequential basis, a couple of things to note. FX headwinds, they are there, we need to deal with them, but they are obviously a negative to revenue. Headwinds we have this year that were not there a year ago. We've also said, manufacturing ramp that we've had this year in December quarter has been fastest that we've ever had. Also a factor that impacts the sequential compare. Then there's a couple of specific events that happened last year in March that are not going to repeat
2:39 pm: Q: Comment on your revenue guidance, Luca as you mentioned range is down 26-30% sequentially. Look back over last 3-4 Q1-Q2, revenues decline in more 15-20% range. As you noted iPhone channel inventory is below target range as well, so wondering if you can discuss what factors are contributing to steeper than normal decline this quarter.
2:39 pm: Incredible market, people love Apple products, we are going to do our best to serve the market.
2:39 pm: A: Local competition was there this quarter and has been there for many quarters before. Local competition isn't new. I think we did really well there, very proud of how we're doing. Was there right after launch in October and excitement around 6 and 6 Plus was phenomenal. Can see that in the results with mainland China up 100% year on year. Can tell that we're a big believer in China. Growing number of stores. 20 soon and doubling that by mid-2016. Growing channel there, online store has expanded to over 350 cities now, online revenues in China last quarter were more of sum of previous 5 years.
2:37 pm: Q: In terms of China, how do you feel the momentum is in terms of sustainability vs local competition as you navigate that market specifically?
2:37 pm: Basically when we thought. Most importantly, we're thrilled to start shipping it. Customers want it.
2:37 pm: Just to clarify, what we've been saying was Early 2015 and we sort of look at the year and think of Early as first four months, mid is middle four months and late is final four months. It's sort of within the range.
2:36 pm: A: My expectations are very high on it, I'm using it every day. I love it and I can't live without it. I see that we're making great progress on development of it. Number of developers that are writing apps for it are impressive. Seeing some incredible innovation coming out there.
2:36 pm: Q: Asking about Apple Watch, shipping in April. Month or two later than you said originally. What's going on with that product in terms of timing and excitement for it? A little more color on other apps that could be available at launch? Any expectations?
2:35 pm: 38.5-39.5, feel that's very good about where we are in the cycle.
2:35 pm: A: More favorable costs in March vs December. FX headwinds as I was explaining, they will be sequential a headwind of more than 100BP. Exclude that FX impact, we would be guiding to sequential increase in margin. Other element that is there is seasonal, is loss of leverage from Q1 into Q2 when you look at revenue guidance. 26-30% less revenue, loss of leverage.
2:34 pm: Q: Typically enjoy cost product drops as you move through product cycle. Anything other than FX that keeps you from ramping GM over the year?
2:34 pm: Entered quarter with quite a bit of momentum.
2:34 pm: We're appealing to new customers, both new to smartphones and new to iPhone and people switching. Getting great feedback about the quality of the products we're shipping. Very bullish. Emerging markets, the growth was absolutely stunning. Brazil, mainland China, more than doubled year over year. A 3-4x what those markets were doing according to IDC.
2:33 pm: A: You can see from the March guidance that we've given that we're bullish about iPhone going forward. We believe that it's the best smartphone in the world, our customers are telling us that, the market is telling us that. We're doing well in virtually every quarter of the world. Very bullish that it has legs. Only a small fraction of the installed base has upgraded. A lot more people within the installed base. Also point out that we had the highest number of customers new to iPhone than in any prior launch. Current iPhone lineup experienced highest Android switcher rate than any 3 previous years.
2:32 pm: Q: Can you talk about how you think about sustainability of this very strong iPhone demand into 2015? Particularly given that most carriers had access to that product during the quarter?
2:31 pm: At end of quarter, we were within target range of channel inventory on iPad. In terms of growing channel inventory, in particular on iPhone where we're outside of it, we wouldn't expect to see a large step function increase. We would expect it to occur more gradually over time than sort of an all at once type of thing. But we don't guide to channel inventory as you know.
2:30 pm: Just recently we became in supply demand balance on 6 and 6 Plus in January. Not able to reach a balanced state during Fiscal Q1. On iPad, we increased channel inventory by 1.1 million units from beginning of the quarter, that compares to previous year where we increased to 2.1. That was required because of new products we announced.
2:30 pm: A: iPhone point of view, our channel inventory decreased from beginning of the quarter by 200k units. Outside the 5-7 week target range on the low end.
2:29 pm: Q: Sellthrough relative to reported numbers for iPhone and iPad, and increase channel inventory.
2:29 pm: A: We don't report out precise mix but I can tell you that iPhone 6 was most popular iPhone last quarter. Obviously to sell 74.5 million, they were really all popular. All did well, clearly a geographic preference difference where some geos would skew higher on preference to 6 Plus than other geos. Not consistent around the world. Both did incredibly well. Really proud of them along with the iPhone 5s and c as well. Continue to be in the lineup.
2:28 pm: Q: Address mix of iPhone 6 line, how did the 6 Plus do? Relative to total units, geographic skew, and availability?
2:28 pm: A: I think as you know, we prefer to adjust local pricing at the time of new product launches. That's our preference. When currencies move as much as they have in places like Russia, sometimes we need to take mid-cycle action to realign pricing. So we'll see what happens. As you know, currency markets are very volatile and we want to understand a bit better what is happening.
2:27 pm: Q: Talk a little bit about pricing power? As you think about currency and euro movements, then the contracts you have with carriers, talk about opportunities to raise prices?
2:27 pm: It goes without saying, a strong US dollar has a negative impact on our international business. We have provided what we believe is very strong guidance. Remain confident about portfolio of services in the market today.
2:26 pm: In terms of gross margins, we look at gross margin on sequential basis, gross margin percentage after the offset from the hedging program will be impacted by more than 100 basis points. Now, having said that, we have factored the impact that I just described into the guidance that we provided to you. That's where we are right now. Looking further out, we don't provide guidance past March but at current levels, again those headwinds will continue to become stronger for the reasons I explained earlier. Our hedges continue to expire.
2:25 pm: What that means to us going forward for the March quarter is that revenue growth on a year over year basis in constant currency would be 5 points higher than what we are guiding to if not for FX movements.
2:25 pm: Our hedging program partially mitigated the volatility, but as we look forward into the March quarter, FX headwinds will be stronger in Q2 than in Q1 for two main reasons. Fact that the US dollar has continued to appreciate against foreign currencies during last few weeks, and that our existing hedges expire, get replaced by new contracts at current levels, so the protection that's provided to us by hedging diminishes over time.
2:24 pm: A: Q1 and what we're looking for in Q2 and maybe even further. What we've seen during Q1 is unprecedented movements in currencies. During the quarter, the biggest impact came from the Japanese Yen, Russian Ruble, but also from Euro, Australian and Canadian Dollar. Revenue growth during Q1 would have been 4 percentage higher on a constant currency basis.
2:23 pm: Q: Talk about currency? How are you thinking about it? What it does to gross margin? What it's going to do during the year?
2:23 pm: Questions starting:
2:23 pm: Dividend of $0.47 per share, payable on 2/12 to shareholders as of 2/9.
2:23 pm: Gross margin between 38.5 and 39.5%. OpEx between 5.4 and 5.5 billion. Tax rate about 26.3%.
2:22 pm: March Quarter: Between $52 and $55 billion, vs $46 billion year ago. Very significant revenue increase despite growing FX headwinds from strengthening of US dollar.
2:22 pm: Review on ongoing basis, continue to solicit feedback from a broad base of investors. Update coming in April when we report second quarter results.
2:22 pm: $130 billion in capital return program, $57 billion in last 12 months.
2:21 pm: Cash: $178 billion in cash plus marketable securities, up $22.7 billion. First international debt offering, 2.8 billion euro notes, greatly diversifying investor base. 46 million Apple shares repurchased, $2.8 billion in dividends, $500 million in vesting employee RSUs. Retired 8 million shares in accelerated share repurchase programs.
2:21 pm: Welcome more visitors than ever before in both physical and online stores. 10 new retail stores to a total of 447. 182 outside the US. 2 new stores this month in Greater China, on track to have 40 stores there by mid 2016.
2:20 pm: Total sales of media and software from iTunes were $2.6 billion vs $2.4 billion year ago.
2:20 pm: Revenue in services grew to an all-time high. Driven primarily by App Store, revenue growing 41% in December quarter. iOS developers have earned more than $25 billion from App Store to date.
2:18 pm: iPad: 21.4 million units, compared to 26 million last year. Introduction of new iPads in October, channel inventory up 1.1 million units vs 2.1 million in quarter last year. Within 5-7 week target range.
2:18 pm: 14% growth rate on Mac. Popularity of Retina iMac, Mac ASP up $58 sequentially, driving all time record revenue for Mac of $6.9 billion. Double-digit yoy unit growth given contraction of global PC market which declined 3% in the quarter. Gained market share in 34 of last 35 quarters.
2:17 pm: December Changewave survey measured 97% customer satisfaction rating for iPhone.
2:16 pm: Now working with 375 carriers over 72% of world's mobile phone subscriber base. Over 210k points of sale for iPhone.
2:16 pm: 200k unit decline in channel inventory compared to increase of 1 million iPhones in year ago period. Was not able to reach supply/demand balance until this month.
2:16 pm: 74.5 million iPhones, 46% growth over last year. Unit sales up 44% in US, up 97% in BRIC countries. Sales doubled yoy in China, Brazil and Singapore.
2:15 pm: $18 billion in net income, above previous record by almost $5 billion. $3.06 earnings per diluted share. Cash flow from operations was $33.7 billion, a new record.
2:14 pm: 39.9% gross margin, above guidance range.
2:14 pm: Sales ahead of expectations in number of areas. Unprecedented demand of iPhone 6 and 6 Plus, as well as our production ramp. Mac and Services revenue also reached new highs.
2:14 pm: Performance of Greater China was particularly impressive with revenue up 70%.
2:14 pm: Broad based across the world.
2:14 pm: Despite significant foreign exchange headwinds.
2:13 pm: CFO Luca Maestri coming on: Generated all-time record revenue of $74.6 billion, up 17 billion or 30% year over year.
2:13 pm: Thank incredible customers for ongoing loyalty and enthusiasm.
2:13 pm: Months and years of focus and determination from teams across Apple and our teams and business partners.
2:13 pm: In December, undertook our largest initiative to help Product Red achieve the goal of an AIDS-free generation. Proceeds from 25 apps, plus portion of sales at retail and online stores on two of the year's busiest shopping days. Apple's donations set a new record.
2:12 pm: 114 schools across 29 states to receive an Apple ConnectEd grant.
2:12 pm: In addition, we have made great progress on ConnectEd and Product Red.
2:12 pm: Robust product and services pipeline that we are very excited about.
2:11 pm: In just over a month, more than a dozen Enterprise customers have signed on as foundation clients.
2:11 pm: Delivered first MobileFirst iOS apps in December. Another 12 apps will launch this quarter including in Health Care, Energy and Utilities and Industrial products. 22 apps, and 100 by end of 2015.
2:10 pm: Also making great progress in our partnership with IBM. Our collaboration is winning over new customers.
2:10 pm: Development for Apple Watch is right on schedule. Begin shipping in April.
2:09 pm: We are more convinced than ever that 2015 will be the year of Apple Pay.
2:08 pm: 80% of mobile payment transactions at Panera. Whole Foods seen mobile payments rise more than 400%.
2:08 pm: Two new categories in the fall. Apple Pay is off to a very strong start. Feedback is extremely positive. Today, 750 banks and credit unions have signed on to bring Apple Pay to their customers. 3 months after launch, Apple Pay makes up more than 2 of 3 purchases using contactless card payments across VISA/MC/AMEX.
2:07 pm: This year, we are looking forward to amazing HomeKit enabled products, and CarPlay enabled vehicles from over 30 automotive brands.
2:07 pm: "Just at the beginning of health and wellness solutions for our customers."
2:07 pm: Cook is discussing apps developed with Swift, as well as iOS 8 features.
2:06 pm: In first month, Xcode tools were downloaded more than 11 million times. Swift has had unprecedented growth.
2:05 pm: Blown away by reaction to Swift. Inventing a new programming language is something very few companies can do. Will have a profound effect on our ecosystem.
2:05 pm: Would have been even stronger absent fierce foreign exchange volatility.
2:05 pm: Strong performance resulted in total company revenue of $74.6 billion, earnings of $18 billion. All-time records. Revenue up 30%, profit up 38% over last year. Earnings per share up even more, 48% to $3.06, an all-time quarterly record
2:04 pm: Sold first iPhone less than 8 years ago. People and great ideas are the reasons we make the things we make.
2:04 pm: 1 billion iOS devices sold.
2:04 pm: Demand was strong around the world. Flurry estimated that Apple products accounted for more than half of smartphone activation during Christmas week.
2:03 pm: App Store and Mac both set records for quarterly revenues.
2:03 pm: iPhone sales driven by unprecedented popularity of iPhone 6 and 6 Plus. Hard to comprehend. 34,000 iPhones every hour during the quarter. Execution by teams to achieve these results was spectacular. Available in 130 countries, fastest and most successful iPhone rollout ever.
2:02 pm: Tim Cook: Today we report a historic quarter and I'm incredibly proud of everyone who contributed to the amazing results you're about to hear. Half a billion customer visits to retail and online stores in the quarter.
2:01 pm: The call is beginning with remarks from Apple CEO Tim Cook and CFO Luca Maestri.
1:55 pm: The earnings call will begin in approximately 5 minutes.
1:36 pm: Apple's stock is up ~5% in after-hours trading following the earnings release.