'iPhone SE 2' With Wireless Charging Said to Launch in May or June
Apple is reportedly working on a new entry-level smartphone model similar to the iPhone SE that will support wireless charging and be released in time for summer 2018.
The prediction comes from Digitimes Research analyst Luke Lin, who believes that Apple's iPhone SE successor will have a glass back similar to the iPhone 8 series and iPhone X, but will lack the 3D sensing capabilities of the latter model.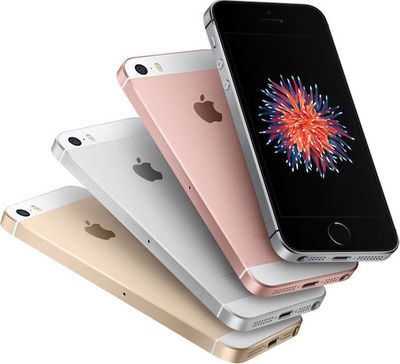 For the entry-level sector, Apple is preparing a new inexpensive smartphone similar to the iPhone SE for 2018, featuring the wireless charging functionality, but not 3D sensing. The smartphone will begin mass production in the second quarter with the official launch in May or June, Lin noted.
Taiwan-based website DigiTimes has a mixed track record at reporting on Apple's upcoming product plans. Its sources within the upstream supply chain have proven reliable in the past, but predictions from its research analysts are harder to gauge.
Lin doesn't specifically mention the size of the new entry-level model, but the details match up with previous rumors about a forthcoming four-inch 'iPhone SE 2' with a glass back, although earlier speculation said the device would ship in the first quarter of 2018, rather than the second quarter.
Rumors about a the specifications of Apple's next small form factor smartphone appeared in August last year, when Indian tech website Tekz24 claimed Apple's next iPhone SE model would have an A10 Fusion chip, 2GB of RAM, and 32GB and 128GB storage capacities, and a slightly larger 1,700 mAh battery.
In November, China's Economic Daily News claimed Apple's second-generation iPhone SE was set for the first half of 2018 and would be assembled by Wistron at its factory in Bengaluru, India, where some assembly of the current iPhone SE occurs. Taiwanese market research firm TrendForce also recently predicted that Apple is planning to launch a second-generation iPhone SE in 2018 to target the mid-range smartphone market.
Apple hasn't properly refreshed the iPhone SE since it launched back in March 2016, but it did double the available storage capacities to 64GB and 128GB in March 2017. Apple has confirmed an AirPower wireless charging mat will be released sometime this year for Apple Watch and iPhone models with a wireless charging feature.