Apple Seeds First Beta of iOS 11.3 to Developers With New Animoji, Business Chat, Health Records, iCloud Messages and More
Apple today seeded the first beta of an upcoming iOS 11.3 update to developers, one week after releasing iOS 11.2.5, an update that focused primarily on bug fixes and security improvements.
Registered developers can download the iOS 11.3 beta from Apple's Developer Center or over-the-air once the proper configuration profile has been installed from the Developer Center.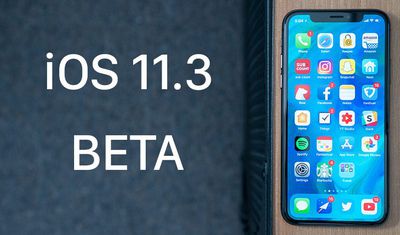 Apple this morning shared a preview of iOS 11.3, outlining all of the new features we can expect to see in the update.
iOS 11.3 will bring four new Animoji characters to the iPhone X, like a lion, bear, dragon, and skull, giving iPhone X users new characters to play with, and it reintroduces iCloud Messages, a feature that was removed from the initial iOS 11 release.



The software update includes improved ARKit tools for developers. ARKit 1.5 can recognize and place virtual objects on vertical surfaces and it can more accurately map irregularly shaped surfaces like circular tables. ARKit is able to recognize the position of 2D images like signs, posters, and artwork, integrating them into AR experiences. Museums, for example, can be filled with interactive exhibits or a movie poster can be brought to life. The real-world view through the camera when using AR also offers 50 percent greater resolution (1080p) in ARKit 1.5 and supports auto-focus.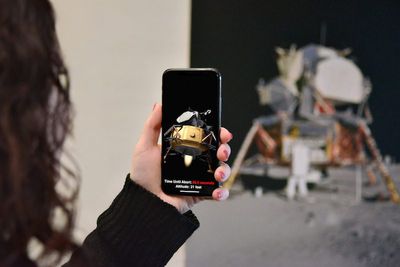 Business Chat, a feature that first debuted in iOS 11, is officially launching in beta capacity this spring with support from businesses like Discover, Hilton, Lowe's, and Wells Fargo. You'll be able to have customer support chats with these companies right within the Messages app.


In the Health app, Apple is adding a new Health Records feature to make it easier for customers with a participating medical institution to access their records right on their iPhone, even when those medical records are spread across multiple providers.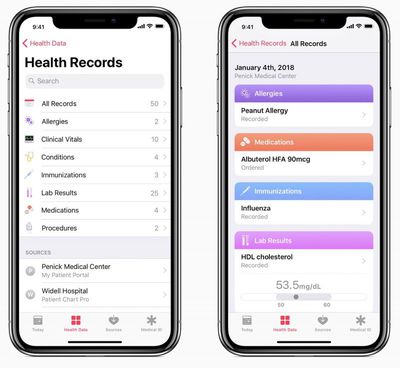 Supported providers include Johns Hopkins Medicine, Cedars-Sinai, Penn Medicine, Geisinger Health System, UC San Diego Health - San Diego, California, UNC Health Care , Rush University Medical Center, Dignity Health, Ochsner Health System, MedStar Health, Ohio Health, and Cerner Healthe Clinic.
A later beta of iOS 11.3 will feature new, more detailed information about the health of a device's battery. The change comes following controversy over power management features implemented in older devices to prevent unexpected shutdowns. Those power management features throttle iPhones with degraded batteries at times of peak power usage to maintain stable performance.
The update should provide a lot more data about battery health, and there will also be an option to let customers turn off the power management feature entirely, though Apple does not recommend disabling it. The new features can be found in Settings --> Battery and are available for iPhone 6 and later.
Other new features included in iOS 11.3 include support for streaming unlimited music videos in Apple Music without ads, a new "For You" video of the day in Apple News along with improved Top Stories, HomeKit software authentication to make it easier for accessory makers to add HomeKit support into existing devices, support for Advanced Mobile Location (AML) to automatically send a user's current location when making a call to emergency services in supported countries, a new name for "iBooks," which is now just "Books," and an update to the App Store updates page, which now shows the version number and download size of all updates.
Today's beta is limited to developers, but Apple says a public beta will be released for public beta testers soon.