Writer/director Rian Johnson did an interview with The Wall Street Journal this week, discussing his favorite tech essentials that he uses both casually and professionally, including for the creation of Star Wars: The Last Jedi. In regards to the scripting process of The Last Jedi, Johnson said that he wrote the entire film on an air-gapped MacBook Air.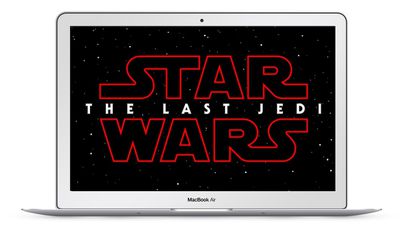 An air-gapped computer is never connected to the internet, ensuring that the device is completely isolated from other, potentially non-secure networks. Johnson explained that this prevented secrets within
The Last Jedi
's script from ever getting out, and he "used it for nothing except writing the script," although he didn't specify which model of Apple's MacBook Air he used.
I typed Episode VIII out on a MacBook Air. For security it was "air-gapped"—never connected to the internet. I carried it around and used it for nothing except writing the script. I kept it in a safe at Pinewood Studios. I think my producer was constantly horrified I would leave it in a coffee shop.
Johnson also mentioned playing iOS game Desert Golfing on his iPhone X, admitting he's played "more than 1,500 holes" in the game. Other tech discussed included a Leica M6 35mm film camera used on The Last Jedi, his Omega Speedmaster Pro wrist watch used to time out moments on the set, and "The History of Rome" podcast he listened to when writing the movie.
Ahead of the release of The Last Jedi, Apple hosted free Star Wars-themed workshops at select Apple retail stores. The sessions taught participants how to make movie trailers and code droids in celebration of Force Friday II, the day that new Star Wars toys launched for characters, stories, and locations from The Last Jedi. Earlier in the summer, animator and illustrator Wahyu Ichwandardi shared an Apple/Star Wars project of his own when he recreated the entire first trailer for The Last Jedi on a vintage Apple IIc from 1984.