Apple Shares Updated iOS Security Guide With Info on Face ID, Apple Pay Cash and More
Apple this afternoon published an updated version of its iOS Security white paper for iOS 11 [PDF], with information that covers features introduced in iOS 11.1 and iOS 11.2, like Face ID and Apple Pay Cash.
Much of the information in the document on Face ID has been previously shared by Apple in a dedicated Face ID white paper and accompanying support document that was released in September following the iPhone X's announcement, but the Face ID section is worth a re-read for those who are interested in Face ID security.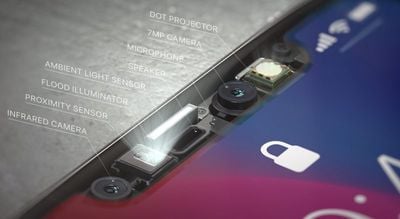 The document also covers several other topics, such as Shared Notes, CloudKit, Siri Suggestions, and more, with a full list of updates below:
Updated for iOS 11.2
- Apple Pay Cash
Updated for iOS 11.1
- Security Certifications and Programs
- Touch ID/Face ID
- Shared Notes
- CloudKit end-to-end encryption
- TLS
- Apple Pay, Paying with Apple Pay on the web
- Siri Suggestions
- Shared iPad
The document explains in detail how Apple features work and how they're protected. With Apple Pay Cash, for example, Apple says transaction data is stored for troubleshooting and fraud protection, while all money transfers are done securely using the Secure Element as with other Apple Pay transactions.
There are many small but significant details in the paper about all of the topics listed above, and for anyone who is interested in the security of their iPhones and iPads, it's worth checking out in detail.
Prior to today's update, the last update to the iOS security document was in July of 2017 following the release of iOS 10.3.