At this year's Consumer Electronics Show, Western Digital is introducing several new products under both its WD and SanDisk brands, including new SSDs, software updates, and an ultra small flash drive.
The new WD My Passport Wireless SSD features wireless connectivity to allow customers to transfer photos captured on devices like drones or cameras without the need for a cable.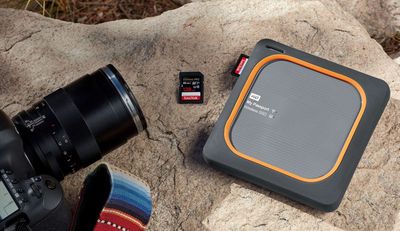 It features a rugged enclosure, read speeds of up to 309MB/s, 10 hour battery life, and a built-in SD card reader, making it a solid choice for on-the-go usage.
The My Passport Wireless SSD also has a one-touch transfer button to initiate content transfers, and it serves as a power bank for charging your devices with an integrated 6,700mAh battery. It's available in 250GB to 2TB capacities, with pricing ranging from $229 for the 250GB model to $800 for the 2TB model.
Under its SanDisk brand, Western Digital is introducing the USB-C SanDisk Extreme Portable SSD, a small pocket-sized SSD with capacities up to 2TB and 550MB/s read speeds. It has an IP55 rating so it can stand up to splashes, light rain, and dust when in use outdoors.
Pricing for the SanDisk Extreme Portable SSD starts at $99.99 for the 250GB version and goes up to $700 for the 2TB version.
Along with the new SanDisk Extreme Portable SSD, Western Digital is debuting the SanDisk Ultra Fit USB 3.1, which it says is the world's smallest 256GB USB flash drive with read speeds of 130MB/s. There are several versions of the Ultra Fit, with the 16GB model priced at $22 and the highest-end 256GB model priced at $150. Western Digital also has a 1TB Ultra Fit prototype on display at CES.


In addition to its new hardware products, Western Digital is announcing Smart Home media app integration that enables voice activation in its My Cloud Home. With the update, My Cloud Home can integrate with devices like Alexa and Chromecast.
More information on Western Digital's new products can be found on the Western Digital and SanDisk websites.