Hyper today announced the upcoming launch of a new HyperDrive USB-C Hub, which will be available for pre-order on Kickstarter starting on January 15.
The HyperDrive USB-C Hub, which is compatible with all USB-C equipped MacBook and MacBook Pro models, features a total of 8 ports, including a 4K HDMI port, a Gigabit Ethernet port, a microSD slot, an SD card slot, three USB-A 3.1 ports and one USB-C power delivery port.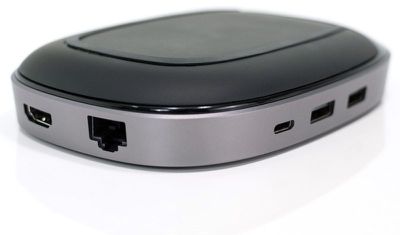 In addition, the USB-C Hub has a built-in 7.5W wireless charger and convertible stand that's designed to charge the iPhone X, iPhone 8, and iPhone 8 Plus.
Using the included stand, which has a hinge that can be set to multiple viewing angles, the iPhone can be charged flat or while standing up in landscape or portrait mode thanks to three included wireless charging coils.


The HyperDrive USB-C Hub has an included retractable USB-C charging cable to allow it to be connected to a MacBook, but it can also be plugged into the wall with a USB-C power source to provide power to the MacBook and to serve as a standalone wireless charging device when not connected to a MacBook.
HyperDrive claims that the USB-C Hub is able to charge an iPhone X faster than 7.5W wireless chargers available from Belkin and Mophie, and it says that the hub operates at a lower temperature than standard wireless charging accessories. The USB-C Hub is designed to operate at 77ºF, with generated heat isolated from the iPhone via an airgap and dissipated through the accessory's aluminum sides.


There is an LCD display built into the hub to provide details on voltage and current, and it's designed to be similar in size to other Qi wireless chargers on the market.
Hyper has an early bird special that will allow Kickstarter backers to get one of the new HyperDrive USB-C Hubs for $69, which it says is over 50 percent off the retail price of $149. Once early bird models have been exhausted, the HyperDrive USB-C Hub will be available for $89.
The Kickstarter project from Hyper has an estimated delivery of March 2018 for the first orders and April 2018 for later orders.