Flagship Apple Store Possibly Still Planned at Yonge-Bloor in Toronto
Canada's most populous city may eventually be home to a flagship Apple retail store at one of its busiest intersections.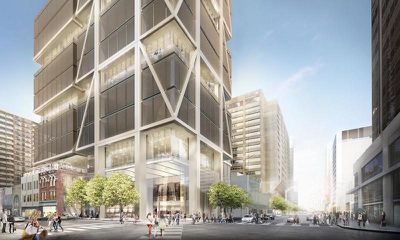 A render of what The One will look like upon completion
MacRumors has learned that Apple has been labeled in a planning document for
The One
, a massive 85-floor condominium under construction at the corner of Yonge Street and Bloor Street in Toronto. The architecture firm behind the project, Foster + Partners, has partnered with Apple on numerous occasions.

The One's architectural plan
The plans outline a proposed triple-height, 9,000-plus-square-foot retail store with space for a riser to the ceiling, suggesting the store could have a cantilevered balcony like Apple's flagship Union Square location in San Francisco. The store's large glass entrance would open up to the sidewalk facing Bloor Street.

Apple Union Square in San Francisco
While the blueprints were submitted to the City of Toronto in March 2016, eagle-eyed MacRumors reader and Toronto resident
Pedro Marques
noticed the document has been updated, and it appears Apple was labeled at a later date.
Apple has yet to announce any plans to open a flagship store in Toronto, but rumors about the company setting up shop at Yonge and Bloor date back to at least 2012. The planning document is the first concrete evidence we've seen beyond subtle hints from builder Mizrahi Developments.
Apple would be one of several retailers at the base of the condominium, and the store could also have an entrance in Toronto's PATH, a series of underground hallways that connect downtown offices, stores, and subway stations.
Despite being mentioned in the planning document, there is no guarantee that Apple has finalized a lease to occupy The One. A few years ago, an anonymous tipster informed MacRumors that Apple was considering pulling out of the project given delays, pushback from some local residents, and other issues.
Toronto has four existing Apple retail stores at Eaton Centre, Fairview Mall, Sherway Gardens, and Yorkdale, but all of them are within shopping malls, and only one is located in the downtown core.
A large, street-facing Apple store has been long desired in Toronto, and within two to four years, it may finally be a reality. The One is expected to be finished by early 2020, although Foster + Partners still lists a 2022 completion date.