iMac Pro Teardown Highlights Modular RAM, CPU and SSD Along With Redesigned Internals
With the iMac Pro now in the hands of customers and available at Apple retail stores, popular repair site iFixit has acquired one of the $4,999 machines and has opened it up to see just what's inside. iFixit tore down the base iMac Pro model with an 8-core processor, 32GB RAM, and a 1TB SSD.
iFixit found that the RAM, CPU, and SSDs in the iMac Pro are modular and can potentially be replaced following purchase, but most of the key components "require a full disassembly to replace."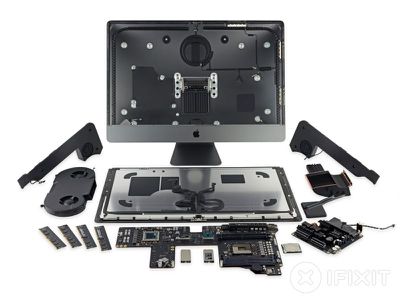 Standard 27-inch iMacs have a small hatch in the back that allows easy access to the RAM for post-purchase upgrades, but that's missing in the iMac Pro. Apple has said that iMac Pro owners will need to get RAM replaced at an Apple Store or Apple Authorized Service Provider. iFixit says that compared to the 5K 27-inch iMac, replacing the RAM in the iMac Pro is indeed "a major undertaking."


Apple is using standard 288-pin DDR4 ECC RAM sticks with standard chips, which iFixit was able to upgrade using its own $2,000 RAM upgrade kit. A CPU upgrade is "theoretically possible," but because Apple uses a custom-made Intel chip, it's not clear if an upgrade is actually feasible. The same goes for the SSDs -- they're modular and removable, but custom made by Apple. Unlike the CPU, the GPU is BGA-soldered into place and cannot be removed.
The internals of the iMac Pro are "totally different" from other iMacs, which is unsurprising as Apple said it introduced a new thermal design to accommodate the Xeon-W processors and Radeon Pro Vega GPUs built into the machines. The new thermal design includes an "enormous" dual-fan cooler, what iFixit says is a "ginormous heat sink," and a "big rear vent."
Apple's iMac Pro appears to be equipped with the same LG display panel that's used in the standard 27-inch 5K iMac, but because of new cables and a different camera setup, screens can't be swapped across models.
iFixit gives the iMac Pro a repairability score of 3/10, because despite its upgradeable RAM and CPU, it's difficult to open and tough to get to internal components that might need to be repaired or replaced.
The iMac Pro became available for purchase in mid-December, and the machine is now available to order from Apple's website, with 8 and 10-core configurations shipping out in just a few days. Many Apple retail stores around the world also have the base model in stock and available for immediate purchase. Higher-priced 14 and 18-core configurations can be ordered, but won't ship out for several weeks.


Pricing on the iMac Pro starts at $4,999 for the base machine with an 8-core 3.2GHz processor, 32GB ECC RAM, a 1TB SSD, and a Radeon Pro Vega 56 graphics card, and goes up to $13,199 for a maxed out iMac Pro with a 3.3GHz 18-core processor, 128GB ECC RAM, a 4TB SSD, and a Radeon Pro Vega 64 graphics card.