iMac Pro Base Model Teardown Reveals 2x SSD RAID Configuration and Four 8GB DIMM Modules
While we await iFixit's inevitable comprehensive teardown of Apple's new iMac Pro, third party Mac component supplier OWC has just published its own teardown video, providing some interesting tidbits on the internal configuration of the non-user upgradeable machine.
Whereas standard 27-inch iMacs have a small hatch in the back that allows the RAM in the machine to be upgraded after purchase, the iMac Pro does not. Fortunately, an Apple Store or an Apple Authorized Service Provider is able to open up the iMac Pro and swap out the RAM, and here's what they can expect to find upon doing so.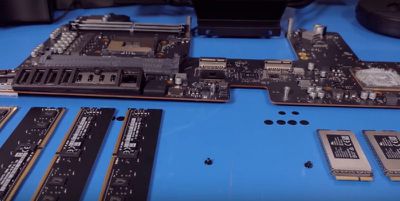 Four DIMM memory modules (left) and two solid-state drives (right)
The teardown reveals that in the 32GB base model, there are four 8GB DIMM modules, a configuration type that appears to be mirrored in the 64GB (4 x 16GB) and 128GB (4 x 32GB) models. The good news is that this means the iMac Pro supports quad-channel memory, but the bad news is that it also means users looking to upgrade from, say, 32GB to 64GB will have to replace all four modules to do so.
The teardown also reveals that in the iMac Pro 1TB base model, Apple has chosen to use two 512GB SSDs in a RAID configuration. Rather than soldering the flash storage on the main board, both drives exist as separate modules that are attached via screws, so replacing them is at least technically feasible, even if Apple does not make it easy.
OWC says that in the near future it will be offering a DIY memory upgrade kit for the iMac Pro, although most users are likely to hand over such an undertaking to a qualified service provider. For more details on the iMac Pro's internals, including the Intel Xeon W eight-core processor, be sure to watch the video embedded above.