iMac Pro Now Available for Pickup at Apple Stores in Australia and Japan [Updated]
Following initial shipments of the iMac Pro that have started to be delivered to customers over the past few days, the iMac Pro is now available for pickup at many Apple retail stores in Australia and Japan.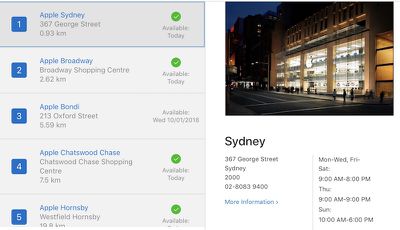 Apple's website lists the iMac Pro as available for pickup today at around half of its retail locations in Australia and Japan, but for now it appears that only the base model has immediate availability, allowing customers to place orders online from store stock.
While we're currently seeing pickup available only in Australia and Japan, it's possible other countries with personal pickup could see similar availability once the clock rolls around to Friday in those countries.
Since the workstation is highly customizable, many customers may still prefer to order from Apple's online store, where exact tech specs, accessories, and software add-ons like Final Cut Pro X can be selected as desired.
iMac Pro starts at $4,999 for a base 8-core model in the United States, with 10-core models available from $5,799, and these configurations are currently estimated for delivery by early to mid January from Apple's U.S. online store. 14-core and 18-core models start at $6,599 and $7,399, but they don't ship for 5-7 weeks.
Online, every configuration has optional upgrades available for storage, memory, and graphics, with prices topping out at $13,199 for a maxed-out, high-end model with an 18-core Intel Xeon processor, 4TB of SSD storage, 128GB of ECC RAM, and AMD Radeon Pro Vega 64 graphics with 16GB of HBM2 memory.
Update December 29: Apple is now showing personal pickup availability for the base iMac Pro model at many stores in the United States and Canada.