14 and 18-Core iMac Pros May Arrive Sooner Than Expected [Updated]
While deliveries of the first 8 and 10-core iMac Pro orders are set to begin as soon as next week, customers who opted for upgraded 14 or 18-core options were given shipping estimates ranging from 6 to 8 weeks for the machine when ordering.
It appears the 6 to 8 week estimate may not be quite accurate for all orders, as MacRumors reader Adam, who ordered a top-of-the-line machine with an 18-core processor, has received an updated delivery estimate of January 8 to January 9, which will be just a little over three weeks after the iMac Pro was first was ordered.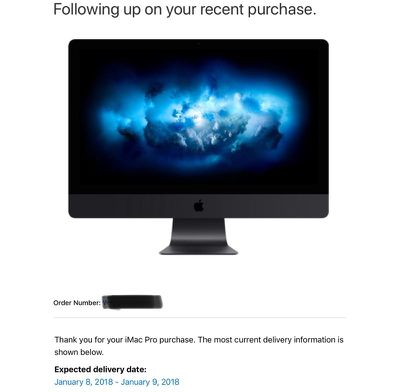 MacRumors forum member gobluejd has also received a sooner-than-expected shipping estimate for his 14-core iMac Pro, which will arrive on January 9 to 10 instead of the end of January.


Other customers who purchased 14 and 18-core machines may also be seeing updated delivery estimates from Apple, though on Apple's site, iMac Pro orders placed today still list the same 6 to 8 week shipping estimate for high-end iMac Pro configurations.
It's likely that once initial orders go out, Apple will be able to improve those shipping estimates for new orders.
Customers who ordered 8 and 10-core machines will begin receiving their orders in the near future, as some iMac Pro orders started shipping just this morning in the United States and Canada.
The iMac Pro is still listed as unavailable in retail stores. Apple said the new machine would be available in stores by the middle of this week, a deadline that's been missed, but we could still see them in pop up in stores on Friday or Saturday.
Apple's iMac Pro is a workstation-class machine aimed at professional users who have demanding workflows. The iMac Pro supports up to an 18-core Xeon W processor, 128GB ECC RAM, an AMD Radeon Pro Vega 64 graphics card with 16GB of HBM2 memory, and up to 4TB of SSD storage.
Pricing on the iMac Pro starts at $4,999 and goes up to $13,199 for a fully maxed out model.
Update: Some customers who received emails letting them know their orders will arrive early have received second emails informing them that the original emails were sent accidentally, so it is not clear if 14 and 18-core iMac Pro orders are indeed going to be arriving early.