Apple Launches iTunes Sale With 4K HDR Bundles Starting at $19.99 for Three Movies
Apple today launched a new iTunes Movies sale centering around 4K HDR bundles, allowing Apple TV 4K owners to further expand -- or start -- their 4K film collections at a cheaper price. The bundles are divided up by studios and further split into four main genre categories under each studio: Action and Adventure, Comedy, Drama, and Sci-Fi and Fantasy.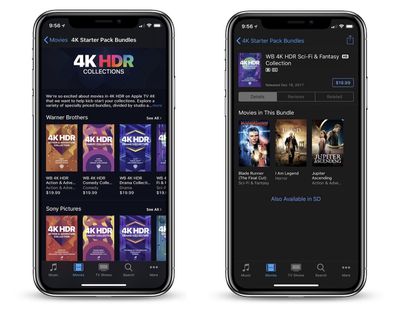 Most of the bundles are $19.99 for three movies, although some rise to $22.99 and $24.99 depending on the studio. For the most part, sale prices haven't hit the SD versions of each collection, with some SD price tags still as much as double the price of the 4K versions of each bundle. Below we've listed each collection and the movies you will find in each:
Warner Brothers
- Action and Adventure ($19.99): The Accountant, Argo, Into the Storm
- Comedy ($19.99): Central Intelligence, CHiPs, Get Hard
- Drama ($19.99): Sully, Collateral Beauty, Live By Night
- Sci-Fi and Fantasy ($19.99): Blade Runner (The Final Cut), I Am Legend, Jupiter Ascending
Sony Pictures
- Action and Adventure ($19.99): Bad Boys, Crouching Tiger, Hidden Dragon, The Professional
- Comedy ($19.99): Ghostbusters (1984), Rough Night, Sausage Party
- Drama ($19.99): The Bridge On the River Kwai, Concussion, Inferno
- Sci-Fi and Fantasy ($22.99): Starship Troopers, Life, Passengers (2016)
20th Century Fox
- Action and Adventure ($24.99): Independence Day, Hitman: Agent 47, Assassin's Creed
- Comedy ($24.99): Keeping Up With the Joneses, Snatched, Spy
- Drama ($24.99): Life of Pi, The Martian, The Revenant
Universal Studios
- Action and Adventure ($24.99): Lone Survivor, Everest (2015), The Great Wall
- Sci-Fi and Fantasy ($24.99): Warcraft, Snow White and the Huntsman (Extended Edition), King Kong (2005)
Lionsgate
- Action and Adventure ($24.99): John Wick, The Hunger Games, Saban's Power Rangers
For the new sale, Apple said: "We're so excited about movies in 4K HDR on Apple TV 4K that we want to help kick-start your collections. Explore a variety of specialty priced bundles,divided by studio and genre, and start building your library in this amazing picture quality today."
iTunes Movies sales are frequent around the holidays, and there are also a few Christmas-themed movies in 4K being discounted right now, like Home Alone, How The Grinch Stole Christmas, and The Holiday ($9.99 each). You can visit iTunes Movies on macOS or iOS and the new 4K HDR collections should start appearing on the store's carousel today.