Apple CEO Tim Cook and Koch Industries CEO Charles Koch today teamed up to write an opinion piece in The Washington Post urging Congress to create a legislative solution to protect those affected by the end of the Deferred Action for Childhood Arrivals (DACA) program.
DACA, for those unfamiliar, gives illegal immigrants who entered the United States at age 16 or younger work permits and protection from deportation by two-year deferral. Many of those protected by DACA have been in the United States for most of their lives.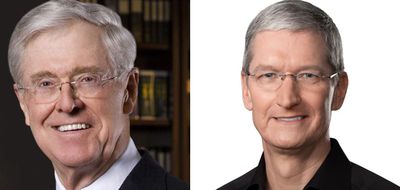 Cook and Koch say they often disagree on political issues, but are "firmly aligned" on DACA. "This extraordinary set of circumstances has brought the two of us together as co-authors," reads the letter.
In the missive, Cook and Koch point out that there are 690,000 "dreamers" aka children of immigrants who may not be able to enjoy another holiday season in the United States as a result of DACA. The two urge Congress to "show the courage to embrace diversity and to do what is right."
We have no illusions about how difficult it can be to get things done in Washington, and we know that people of good faith disagree about aspects of immigration policy. If ever there were an occasion to come together to help people improve their lives, this is it. By acting now to ensure that dreamers can realize their potential by continuing to contribute to our country, Congress can reaffirm this essential American ideal.
Cook and Koch ask Congress to work quickly to come up with a solution before the end of the year to "bring certainty and security to the lives of dreamers."
No society can truly flourish when a significant portion of its people feel threatened or unable to fulfill their potential. Nor can it prosper by excluding those who want to make positive contributions. This isn't just a noble principle; it's a basic fact, borne out through our national history.
Apple CEO Tim Cook has been advocating for new DACA legislation since United States President Donald Trump announced plans to phase out DACA back in September. At that time, he promised Apple would work with members of Congress to come up with a legislative solution that will continue to protect the children of immigrants.
Apple is also working with impacted Apple employees to provide support, including access to immigration experts. Apple employs 250 "dreamers" or children of illegal immigrants who came to the United States at a young age and have lived in the country since then.
Note: Due to the political nature of the discussion regarding this topic, the discussion thread is located in our Politics, Religion, Social Issues forum. All forum members and site visitors are welcome to read and follow the thread, but posting is limited to forum members with at least 100 posts.