Apple accessory maker Twelve South today launched an updated version of its HiRise Mac stand, called the HiRise Pro, which it's selling for $149.99. Similar to the previous iteration, HiRise Pro includes an adjustable height design (with 1-4 height options) and doubles as a storage space to reduce desk clutter.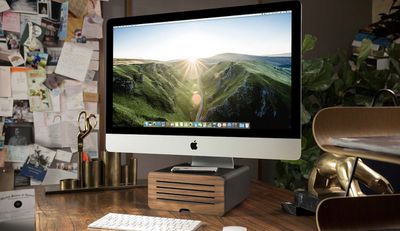 To better integrate into multiple design spaces, Twelve South's new accessory now comes with a double sided front plate in gunmetal and walnut, which you can flip over easily to pick the color you prefer. The company has also included a padded leather top valet on the HiRise Pro so you can safely place your iPhone on the ledge while you work, and don't have to worry about scratches.

Twelve South's series of HiRise products are built as an ergonomic solution to reduce neck and back strain when you sit in front of an iMac or other external display for long periods of time. The adjustable height allows you to place your iMac's screen at a more even eye level, and the product will work with any iMac and Apple-supported external display with a base width of 10 inches or less.


The new double sided front plate is magnetic and includes small grilles to ensure that hard drives that may be placed inside the storage compartment have enough air circulation. When opened, the inside of the compartment includes two ledges for storing items, with the middle adujstable ledge also providing the landing space for the iMac's base.
Those interested can purchase the HiRise Pro from Twelve South today for $149.95. The older version is still available to buy for $79.99 as well.