Adobe on Tuesday released Lightroom CC v1.1 for macOS, bringing some additional features and enhancements to the photo editing suite, including support for new cameras and lenses.
Top of the new feature list is an enhanced Auto mode for automatically applying optimized edits to images. Located in the Light panel in the Detail view, the mode now uses Adobe's advanced Sensei machine learning to intelligently apply what it considers to be the best edits. By design, Auto adjusts a number of slider controls, including Exposure, Contrast, Highlights, Shadows, Whites, Blacks, Saturation, and Vibrance.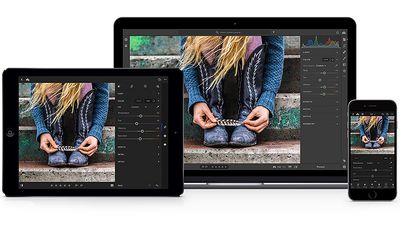 According to Adobe, the neural nets underlying Auto mode have been trained with thousands of professionally shot and manually edited photos to evaluate and correct an image. In an additional tweak, the Auto feature now also includes the ability to optimize the adjustments of the photo even after cropping has been applied.  
Elsewhere, it's now possible to use Tone Curve in the Light panel to fine-tune the tonal range and contrast in photos, while the Split Toning controls in the Effects panel have been enhanced to let users create a split tone effect in which a different color is applied to Shadows and Highlights.


In addition, users can now adjust the date and time of an individual photo or a group of photos. The feature aims to be useful in scenarios where users need to change the capture time of photos after clicking them. Meanwhile, fullscreen mode can now be activated from within the Detail view by pressing the F key, and the lists of supported cameras and lens profiles has been updated.
The new Auto mode is also available over on Adobe Lightroom for iOS, where the quality of HDR capturing has been improved. The mobile app now also lets users add watermarks during export, ACR 10.1 has been integrated, and a number of bug fixes and speed improvements have been applied.


Lightroom CC is available through Adobe's Creative Cloud Photography plan, which bundles Photoshop and Lightroom together for $9.99 per month, or through Adobe's complete Creative Cloud plan, featuring all Adobe software for $49.99 per month.
Lightroom for iOS can be downloaded from the App Store for free. [iPad: Direct Link] [iPhone: Direct Link]