iMac Pro Described as Blazingly Fast, Quiet, and Fairly Priced, But Lacks Upgradeability
Marques Brownlee and Jonathan Morrison have shared hands-on videos of the iMac Pro, which Apple said is available to order on December 14.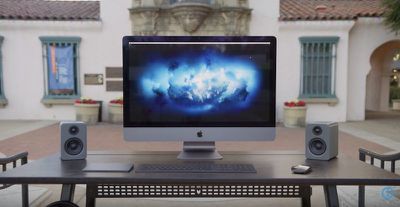 Image: Jonathan Morrison
Brownlee spent the past week with the iMac Pro, using it to create his hands-on video itself with Final Cut Pro X, and found it to be a super capable yet quiet machine with a beautiful display and a stealthy space gray enclosure.
He said the iMac Pro's biggest weakness is its lack of upgradeability, but he said its expensive $4,999 starting price is actually fair for the hardware included, and he priced out a PC with mostly equivalent tech specs at $5,100.
Brownlee benchmarked the 10-core iMac Pro on Geekbench and recorded a multi-core score of 37,417, which is up to 45 percent faster than the top-end 2013 Mac Pro's average
multi-core score of 25,747
.
Of note, those benchmarks suggest the maxed-out, 18-core iMac Pro will be the fastest Mac ever by an almost unfathomable margin.
As a refresher, the iMac Pro can be configured with up to an 18-core Intel Xeon processor, up to 4TB of SSD storage, up to 128GB of ECC RAM, and an AMD Radeon Pro Vega 64 graphics processor with 16GB of HBM2 memory.
With four Thunderbolt 3 ports, the iMac Pro can drive two 5K displays or four 4K displays at 60Hz simultaneously. It also has a 10 Gigabit Ethernet port, four USB-A 3.0 ports, an SD card slot, and a 3.5mm headphone jack.
Brownlee also revealed that the iMac Pro comes with a black Lightning to USB-A cable in the box, compared to the standard white version for other devices. We've asked Apple if this black cable will be available to purchase separately.
The black cable complements the space gray Magic Keyboard with Numeric Keypad and Magic Mouse 2 included in the box. A space gray Magic Trackpad 2 is optional.

Image: Marques Brownlee
He also showcased Twelve South's new HiRise Pro height adjustable stand that sits below an iMac or iMac Pro. The stand doubles as a space to hide the likes of external hard drives, cables, AirPods, or simply your wallet or keys.
HiRise Pro is available to order today for $149.99 on Twelve South's website in a color-matched Space Gray finish.
Morrison also had the 10-core iMac Pro, and he recorded a similar multi-core score of 37,434 on Geekbench. His video provides some nice outdoor shots of the machine, but it is more of a first look rather than an in-depth review.
iMac Pro will be
available to order
on December 14, starting at $4,999, in the United States, Canada, UK, and several other countries. Apple has yet to provide exact pricing details on a configuration-by-configuration basis.