iMac Pro Available to Order December 14, Starting at $4,999
Apple today announced the iMac Pro will be available to order on Thursday, December 14. Pricing starts at $4,999 in the United States.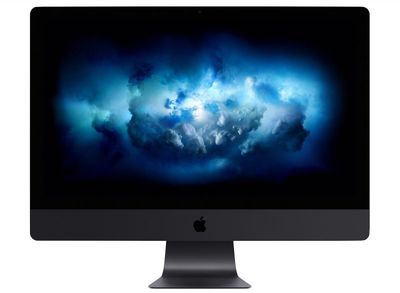 iMac Pro is a powerful, top-of-the-line workstation designed for professional users with demanding workflows, such as advanced video and graphics editing, virtual reality content creation, and real-time 3D rendering.
"iMac Pro is a huge step forward and there's never been anything like it," said John Ternus, Apple's VP of Hardware Engineering.
The all-in-one desktop computer has a 27-inch Retina 5K display within a sleek space gray enclosure. Apple also includes a space gray Magic Keyboard with Numeric Keypad and Magic Mouse 2 in the box. A space gray Magic Trackpad 2 is optional.
Apple said the iMac Pro is the fastest and most powerful Mac ever, at least until the modular Mac Pro is released.
The machine can be configured with up to an 18-core Intel Xeon processor, up to 4TB of SSD storage, up to 128GB of ECC RAM, and an AMD Radeon Pro Vega 64 graphics processor with 16GB of HBM2 memory.


The high-end performance is made possible by an all-new thermal design that delivers up to 80 percent more cooling capacity than a traditional iMac.
With four Thunderbolt 3 ports, the iMac Pro can drive two 5K displays or four 4K displays at 60Hz simultaneously. It also has a 10 Gigabit Ethernet port, four USB-A 3.0 ports, an SD card slot, and a 3.5mm headphone jack.
Other tech specs and features include a 1080p front camera, stereo speakers, four microphones, 802.11ac Wi-Fi, and Bluetooth 4.2.
Apple previewed the iMac Pro at its Worldwide Developers Conference in June. The news, together with the modular Mac Pro, helped alleviate some criticism that Apple was no longer focused on professional users.
Apple has yet to provide exact pricing details on a configuration-by-configuration basis.