iMac Pro Available With 8 or 10 Cores This Week, 14 and 18 Core Models Ship Early Next Year
Apple today announced that the iMac Pro will be released this Thursday, December 14, but YouTube reviewer Marques Brownlee says only 8-core and 10-core models will be available to order this week.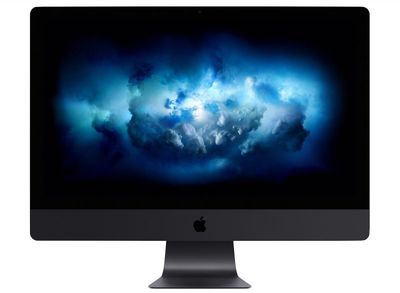 Brownlee in his hands-on video said the high-end 18-core iMac Pro will ship early next year, alongside an unannounced 14-core model that will apparently be added to the lineup for a total of four Intel Xeon processor configurations.
Skip to the 1:53 mark of the video
The 10-core iMac Pro clocked at 3.0GHz earned a multi-core score of just over 37,400 on Geekbench, which is up to 93 percent faster than the latest 27-inch 5K iMac and
up to 45 percent faster than the high-end 2013 Mac Pro
.
The powerful desktop workstation can also be configured with up to 4TB of SSD storage, up to 128GB of ECC RAM, and up to an AMD Radeon Pro Vega 64 graphics processor with 16GB of HBM2 memory.
iMac Pro will be available to order on December 14, starting at $4,999, in the United States, Canada, UK, and several other countries. Apple has yet to provide exact pricing details on a configuration-by-configuration basis.
Note that in Australia, the iMac Pro launches December 15.