While we already knew the iMac Pro will be the fastest Mac ever, at least until Apple releases its promised modular Mac Pro at some point in the future, now we have an idea of just how fast the desktop workhorse will truly be.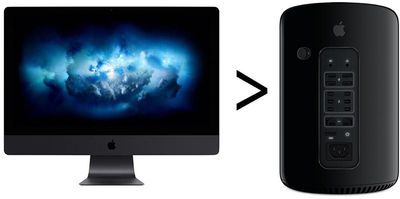 YouTube reviewers Marques Brownlee and Jonathan Morrison have each shared hands-on videos of the iMac Pro, and put its CPU performance to the test with benchmarks on Geekbench, which simulates real-world workload scenarios.
In both videos, the mid-range iMac Pro with a 10-core 3.0GHz Intel Xeon processor recorded a multi-core score of just over 37,400, which is up to 45 percent faster than the high-end 2013 Mac Pro's average multi-core score of 25,747.
The 10-core iMac Pro is also up to 93 percent faster than the latest 27-inch 5K iMac with top-of-the-line tech specs.


Apple said the iMac Pro can be configured with an even faster 18-core Xeon processor, so the 10-core benchmarks aren't even the peak. The 18-core iMac Pro will unquestionably be the fastest Mac ever by an almost unimaginable margin.
iMac Pro can also be equipped with up to 4TB of SSD storage, up to 128GB of ECC RAM, and an AMD Radeon Pro Vega 64 graphics processor with 16GB of HBM2 memory, which helps to power its beautiful 5K display.
With four Thunderbolt 3 ports, the iMac Pro can drive two external 5K displays or four 4K displays at 60Hz simultaneously. It also has a 10 Gigabit Ethernet port, four USB-A 3.0 ports, an SD card slot, and a 3.5mm headphone jack.
iMac Pro will be available to order on December 14 in the United States and several other countries. Pricing starts at $4,999 in the United States. Apple has yet to provide exact pricing details on a configuration-by-configuration basis.