Spotify is quietly testing a new feature that enables listeners to provide positive or negative feedback on track selections in Discover Weekly playlists.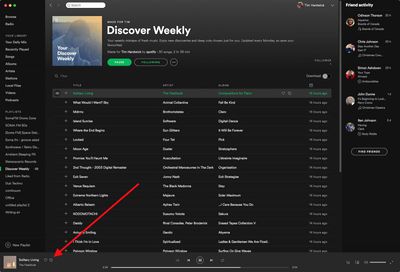 First spotted by Mashable, Spotify has started including a small heart symbol and a blocked sign at the lower left corner of the desktop app interface when a song is playing in a Discover Weekly playlist. When users hover over the heart or blocked sign, a description overlay shows "Like" or "Don't like", respectively.
Clicking "Like" adds the track to the listener's library, while clicking "Don't like" causes a dialog to appear asking whether it's the song or the artist the user isn't keen on. Selecting either ensures that track/artist doesn't show in Discover Weekly again.
According to Spotify, it is testing the like/dislike buttons as a possible new feature for Discover Weekly (they can already be found in the Daily Mix), but they won't appear for everyone, and the streaming service still hasn't decided if a full rollout will follow.

Spotify's Discover Weekly playlist has been a hit with subscribers. Spotify announced in May 2016 that more than 40 million people had used the playlist service, streaming just under five billion tracks in under a year. As Mashable notes, some users have been requesting like/dislike buttons for the playlists for at least a couple of years.