For this week's giveaway, we've teamed up with Understands to give MacRumors readers a chance to win one of several "Baxter" storage solutions for the iMac.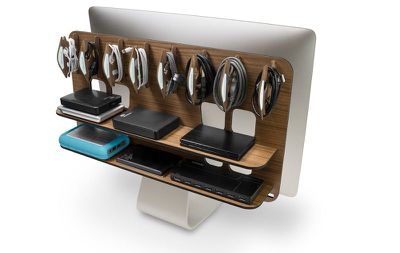 Joe Baxter


Currently available through a Kickstarter project that launched this week, Baxter is a series of rear-mounted storage options designed to add more storage space to your iMac.

Nigel Baxter


There are several different Baxter configurations, each of which is made from a lightweight laminated birch wood and mounts to the back of an iMac. Every one of the Baxters is available with metallic paint, a walnut veneer, a stock image, or a custom print at varying price points. Configurations and starting price points are as follows:
Nigel Baxter ($45) - A single shelf for the rear of the iMac, able to hold a few accessories.
Shira Baxter ($45) - A six-shelf arrangement that's designed to hold hard drives or other small accessories.
Mary Baxter ($45) - Two wide shelves that can hold twice as much as the Nigel.
Joe Baxter ($55) - Two shelves like the Mary Baxter, with 8 cable wraps for keeping your cords organized.
Art Baxter ($75) - A customized backing for the iMac that does not include any shelves.
All of the Baxter prices listed above are entry level. Customization and walnut veneer are more expensive, but for those who have access to a laser machine or who are crafty, there are options to buy raw design files or a DIY kit at much lower prices. Design schematics can be purchased for as little as $2, while DIY kit pricing starts at $20.

Mary Baxter


Baxter storage solutions fit onto the back of iMacs with no tools or adjustments required, and they are compatible with both 21.5 and 27-inch iMac models. Understands says they've been manufactured to add stability to the Mac, so the weight of accessories should not be a problem.

Shira Baxter


Baxter storage solutions can be purchased right now from Kickstarter with an estimated ship date of January 2018, but we have 15 to give away to MacRumors readers. Winners can choose the configuration and color of their choice. To enter to win, use the Rafflecopter widget below and enter an email address. Email addresses will be used solely for contact purposes to reach the winners and send the prizes. You can earn additional entries by subscribing to our weekly newsletter, subscribing to our YouTube channel, following us on Twitter, or visiting the MacRumors Facebook page.
Due to the complexities of international laws regarding giveaways, only U.S. residents who are 18 years or older and Canadian residents (excluding Quebec) who have reached the age of majority in their province or territory are eligible to enter. To offer feedback or get more information on the giveaway restrictions, please refer to our Site Feedback section, as that is where discussion of the rules will be redirected.