Apple Watch Market Share Declined Over Summer as Rumors Swirled About Series 3 Models With LTE
Apple Watch was the world's most popular smartwatch by a significant margin last quarter, but its market share declined over the summer, according to data shared with MacRumors by research firm IDC.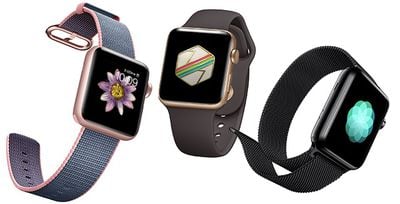 Whereas the Apple Watch represented just under half of all smartwatches shipped in the second quarter with 49.6 percent market share, the device had an estimated 41 percent market share in the third quarter. In other words, four out of every 10 smartwatches shipped last quarter were Apple Watches.
Apple Watch shipments totaled an estimated 2.7 million units in the July-September period, down from 3.4 million units in the prior quarter.

Worldwide smartwatch shipments in Q3 2017 via IDC. Units reflected in millions.
Apple Watch shipments were likely affected by seasonality, as the summer is traditionally a slower sales period for Apple. Also, some customers may have delayed their purchase given consistent rumors about Apple Watch Series 3 models with cellular capabilities launching in September, as did happen.
Samsung finished runner-up to the Apple Watch with an estimated 700,000 shipments, also down slightly from the prior quarter.
Garmin took third place with 600,000 shipments, unchanged from the prior quarter. Fossil and Continental Wireless, which makes kids smartwatches in China, tied for fourth place with shipments of 500,000 smartwatches respectively. All other smartwatch makers shipped 1.7 million units combined in the quarter.
IDC's data shared with MacRumors is based exclusively on smartwatches, which it defines as watches that can run third-party apps on the device itself.
In the broader wearables market, which includes many low-priced fitness trackers, IDC estimates the Apple Watch captured 10.3 percent market share last quarter. Fitbit and Chinese vendor Xiaomi tied for the lead in that category last quarter with an estimated 13.7 percent market share each.
Apple doesn't break out Apple Watch sales like it does with iPhones, iPads, and Macs. Instead, it groups the wearable under its "Other Products" category, alongside Apple TV, AirPods, Beats, iPods, and other accessories.
On a conference call early this month, Apple CEO Tim Cook did reveal that Apple Watch sales were up 50 percent in the quarter year over year. Apple reported revenue of $3.2 billion from its "Other Products" category, up 36 percent year over year.
Moving on now to Apple Watch, with unit growth of over 50 percent for the third consecutive quarter, it continues to be the best selling and most loved smartwatch in the world. We began shipping Apple Watch Series 3 just six weeks ago, and customers love the new freedom of cellular. The ability to go for a run with just your Apple Watch, or go for a quick errand without your phone, while staying connected, is a game changer. Now more than ever, Apple Watch is the ultimate device for healthy life, and is already making a big difference in our customers' lives.
Apple today announced that Apple Watch users in the United States can participate in a heart study aimed at identifying irregular heart rhythms.