Apple's Black Friday Event Launches in the US With Free Gift Cards Up to $150
Apple's annual Black Friday shopping event has kicked off in the United States, with Apple offering customers Apple Store gift cards worth up to $150 with the purchase of select devices including Macs, iPhones, iPads, and Apple Watches.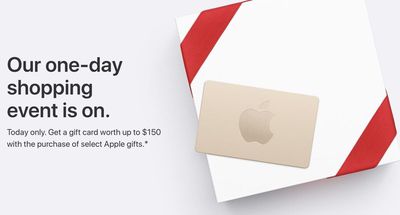 Apple is offering gift cards for a range of products, but many newer devices, including the iPhone X and the Apple Watch Series 3, are not included in the promotion. Gift card amounts by product:
- iMac, Mac Pro, MacBook, MacBook Pro, and MacBook Air - $150 gift card
- iPhone 6s and 6s Plus - $50 gift card
- iPhone 7 and 7 Plus - $50 gift card
- Apple Watch Series 1 - $25 gift card
- 5th-generation iPad - $50 gift card
- iPad mini 4 - $50 gift card
- iPad Pro - $100 gift card
- iPhone SE - $25 gift card
The gift card with purchase deal is available both online and in Apple's retail stores. Customers are limited to two gift cards per product category, and as usual, refurbished products and educational store purchases do not quality for a free gift card.
Apple's US Black Friday sale follows the launch of its Black Friday discounts in Australia and New Zealand, which started on Friday morning local time in those countries. Similar one-day deals are also being offered in several other countries in Europe and North America, including Canada, the UK, France, Germany, Spain, Italy, and more.
Many third-party retailers in the United Stated are offering better discounts than Apple on various iPhone, iPad, and Mac models, so it may be best to shop around before making a purchase. Make sure to check out our Black Friday roundup for all of the best deals we've found on Apple products and accessories.