Apple today shared its latest report on diversity and inclusion, detailing its hiring practices over the course of the last year.
According to Apple, from July 2016 to July 2017, half of all new hires were from "historically underrepresented groups in tech," including women, black, Hispanic, Native American, Native Hawaiian, and Other Pacific Islander.
25% of new hires in 2016/2017 were Asian, 11% Black, 15% Hispanic, 4% multiracial, and 43% White. As of 2017, Apple employees, including retail and tech, are 68 percent male and 32 percent female. 21% are Asian, 9% are black, 12% are Hispanic, 3% are multiracial, and 54% are white. Apple's tech only and leadership only breakdowns continue to skew more heavily towards white and male, however.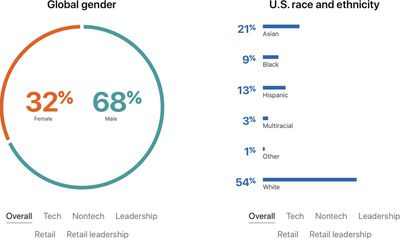 Female representation is "steadily increasing" and is up 5 percent since 2014. 36 percent of Apple employees under 30 are women, and 32 percent overall are women. Apple says that 29 percent of "leaders" at Apple are women, a one percent increase since July of 2016.


Apple says that "meaningful change takes time," but with 130,000 employees, even "small percentage point changes" have the potential to affect thousands of people. A two percent increase in female representation since 2014 equates to 37,000 female hires across the globe.
Further breakdowns of the diversity at Apple are available through Apple's updated Inclusion and Diversity website. Other topics on the site include education, programs for veterans, pay equity, accessibility, LGBTQ advocacy, and supplier programs.
Apple says it's proud of its current accomplishments, but there's "much more work to do." "As we strive to do better, Apple will remain open. As it always has been. And always will be," reads the diversity site.
Note: Due to the political nature of the discussion regarding this topic, the discussion thread is located in our Politics, Religion, Social Issues forum. All forum members and site visitors are welcome to read and follow the thread, but posting is limited to forum members with at least 100 posts.