Earlier this year, the team behind the popular Pixelmator photo editing app for iOS and Mac announced plans to unveil a new pro-level Mac app, Pixelmator Pro.
At the time the app was announced in September, the Pixelmator team had not provided a release date, but today announced that the new software will be coming on November 29.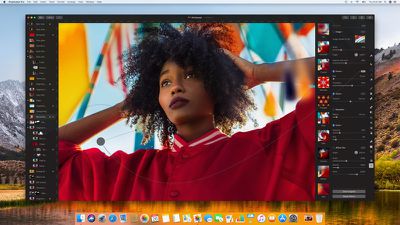 Pixelmator Pro features a reimagined editing workflow with simplified editing tools and intelligent image editing features powered by machine learning. It uses a single-window interface and has been built from the ground up for the Mac.
The software uses the new Core ML framework built into macOS High Sierra to power a range of features like automatic horizon detection, a faster and smarter quick selection tool, and an improved repair tool for effortlessly removing objects from photos.
Nondestructive color adjustment tools are available for editing the colors in photos, and there are tools for easily resizing and rearranging layers, plus there's an entirely new painting engine and dynamic paint blending technology powered by Metal 2.
When it launches on November 29, Pixelmator Pro will be priced at $59, a special introductory price. The Pixelmator team plans to raise the price eventually as new updates and features are added, with the intended price for the software set at $99. As with the current Pixelmator app, Pixelmator Pro will be a one-time purchase and updates will be provided to customers for free.