Face ID Appears to Fail at Telling Apart Brothers Who Aren't Twins in New Videos [Updated]
With the iPhone X now in the hands of thousands of customers around the world, many early adopters are putting Face ID to the test to see if Apple's facial authentication system is as secure as it advertises.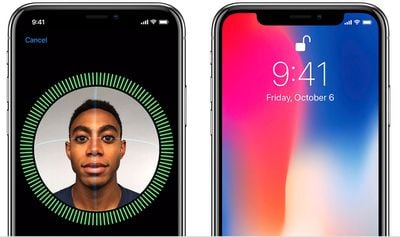 Apple says the probability that a random person in the population could look at someone else's iPhone X and unlock it using Face ID is approximately 1 in 1,000,000, compared to 1 in 50,000 for Touch ID, but it notes the probability of a false match is different for twins and siblings who look like you.
We've already seen that Face ID can be fooled by identical twins, and now a video shared on Reddit appears to confirm that Face ID can sometimes fail to distinguish between siblings who aren't twins but have similar appearances.
Apple has been very transparent that Face ID can be less reliable in these situations, so the video doesn't come across as a PR disaster in the making for the company. But, it does visualize that Face ID isn't 100 percent failproof.
For those concerned about the security of their iPhone X in these cases, Apple's only recommendation is to use a traditional passcode instead of Face ID for authentication. Unfortunately, at least for the time being, that means disabling one of the key new features of a smartphone that costs at least $1,000.
Update: A similar video has surfaced of two half-brothers unlocking the same iPhone X with Face ID. The younger brother is supposedly 14 years old.
Not only do the siblings look somewhat similar, but Apple said probability of a false match is also different among children under the age of 13, because their distinct facial features may not have fully developed. Perhaps the 14-year-old brother falls within that category, even if slightly older.
Update 2: In a follow-up video, the original brothers who posted on reddit reveal that Face ID initially failed to authenticate the second brother, but after inputting the passcode several times after failed attempts, it began to authenticate his face. The brothers' faces were close enough in appearance that Face ID worked as intended by "learning" that it should recognize both brothers as the same person.