PSA: There's No iOS 11.2 Beta for iPhone X, so Beta Testers Can't Restore From Backup [Updated]
Developers and public beta testers who installed the iOS 11.2 beta on their devices earlier this week will be disappointed to learn that there's no iOS 11.2 beta for the iPhone X as of yet, and therefore no way to restore from an existing iOS 11.2 backup on a new iPhone X.
If you're running iOS 11.2 on your existing iPhone and create an iCloud backup, that backup is not going to be compatible with the iPhone X.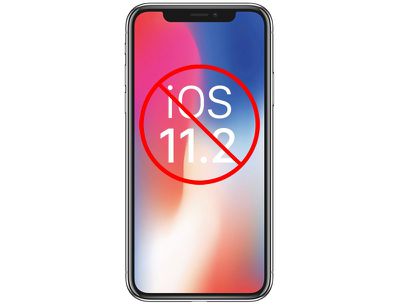 New iPhone X owners who want to restore from a backup will need to wait for Apple to release a version of iOS 11.2 for the iPhone X or downgrade back down to iOS 11.1.
It's not entirely clear when Apple plans to release a beta of iOS 11.2 for the iPhone X.
It could happen today now that the iPhone X is out in the wild and there are customers who can't restore, but Apple could also choose to wait until it's time for the second beta to be released, which means public beta testers and developers will be left over the weekend without a restore option.
The other alternative to restoring is to set a device up as new, but that requires re-downloading all apps and re-entering a lot of information, which is a time consuming process.
Out of the box, iPhone X models appear to have iOS 11.0.1 installed, so the iOS 11.1 update will need to be installed over-the-air or via iTunes after opening it up. When restoring from an iOS 11.1 backup onto an iPhone X, it appears the iOS 11.1 update will be installed on the device automatically.
Update: Apple has released a new beta of iOS 11.2 for the iPhone X.