iPhone X Orders Now Widely Shipping to Customers as Delivery Dates Continue to Improve
iPhone X pre-orders began shipping to customers earlier this week, and with just hours remaining until the device launches around the world, most orders have now been updated with a "shipped" status on Apple's website.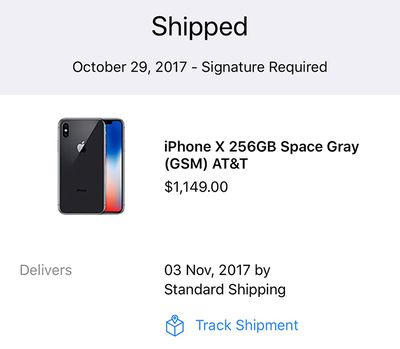 MacRumors readers continue to report improved delivery estimates, with some customers who were previously quoted a November 17-24 window now expected to receive their iPhone X around November 8. Many of these customers, but not all, are enrolled in the iPhone Upgrade Program and ordered a silver model.
iPhone X pre-orders destined for the United States are passing through UPS and FedEx hubs in Anchorage, Alaska, as usual, with UPS shipments headed to its Worldport facility in Louisville, Kentucky. From there, the iPhone X orders will begin to make their way to customers around the country.


The truest of Apple aficionados can take the UPS tracking number they receive, once their iPhone X has been shipped, and match their device's departure scan with UPS flights on FlightAware. The page hasn't been updated since the iPhone 7 launch, but the flight information appears to remain accurate.
The calendar is already turning to Friday in Australia and New Zealand, two countries where the iPhone X will launch first. Long lines are forming at Apple Stores across the Asia-Pacific region, including the Orchard Road location in Singapore.

"Line" at Apple Orchard Road in Singapore via Instagram user kytetsu
Channel NewsAsia
shared a video
on its Facebook page of Apple trying to get customers to form a single queue at the Orchard Road store.
If you didn't pre-order and plan on lining up for a chance to purchase the iPhone X tomorrow, our iPhone Launch Meetups section in the MacRumors discussion forums is a useful resource. The vast majority of Apple Stores will open at 8:00 a.m. local time on Friday, and supplies wil likely be very limited.