Apple Releases watchOS 4.1 With LTE Apple Music Streaming and New Radio App
Apple today released watchOS 4.1, the first major update to the watchOS 4 operating system that runs on the Apple Watch. watchOS 4.1 comes more than a month after Apple released the new watchOS 4 to the public and it follows several weeks of developer beta testing.
watchOS 4.1 can be downloaded through the dedicated Apple Watch app on the iPhone by going to General -> Software Update. To install the new software, the Apple Watch needs to have at least 50 percent battery, it needs to be placed on a charger, and it needs to be in range of the iPhone.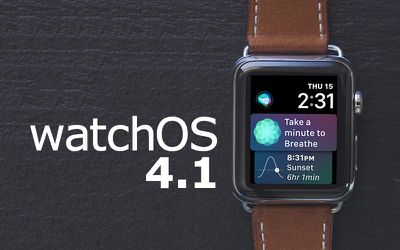 The watchOS 4.1 update introduces support for streaming Apple Music content directly to LTE-equipped Apple Watch Series 3 models, allowing Apple Watch owners to listen to Apple Music even when an iPhone isn't nearby. A new Radio app that offers access to Beats 1 and other Apple Music radio stations is also included.
The Music app on the Apple Watch looks largely unchanged, offering up access to the Music Library, recently played songs, playlists, and Apple Music mixes, but now all Apple Music content can be streamed over an LTE connection and doesn't need to be downloaded to the device.
watchOS 4.1 also introduces a new Wi-Fi toggle for turning off Wi-Fi to force the Apple Watch to use an LTE connection and it displays the Wi-Fi SSID when connected to Wi-Fi os users can see which network the watch is using. The update also brings GymKit, allowing the Apple Watch to pair with supported gym equipment for information sharing purposes.
Along with these features, today's update introduces a range of new Unicode 10 emoji characters that include vomiting face, head exploding, mermaid, zombie, hedgehog, fairy, broccoli, and more. The new emoji are also available on iOS 11.1 and macOS High Sierra 10.13.1.
There are also several bug fixes and security improvements, including a fix for a serious vulnerability in the WPA2 Wi-Fi standard that protects many modern Wi-Fi networks. Full release notes for the update were released early and are below:
New features, improvements, and bug fixes include:

- Stream music on Apple Watch Series 3 with Apple Music or iCloud Music Library
- Listen to live radio on Beats 1, custom stations, and expert-curated stations with the new Radio app on Apple Watch Series 3
- Use Siri to find, discover, and play songs, playlists, or albums
- Sync fitness data with GymKit-enabled treadmills, ellipticals, stair steppers, and indoor bikes for more accurate distance, pace, and energy burn metrics
- Ability to disconnect from a WiFi network in Control Center for Apple Watch Series 3 (GPS + Cellular)
- Fixes an issue for Apple Watch Series 1 and later where Heart Rate notifications were delivered when the feature was not enabled
- Fixes an issue where some users did not receive Stand Reminders
- Resolves an issue where the current stand hour indicator did not appear for some users
- Resolves an issue that caused haptics to not be delivered for silent alarms
- Addresses an issue that prevented Apple Watch (1st generation) from charging for some users
- Resolves an issue where the Sunrise and Sunset complication would sometimes not appear
- Restores Mandarin as the default dictation language for China
For more information on watchOS, including the new watchOS 4.1 update, make sure to check out our dedicated watchOS 4 roundup.