First iPhone X Unboxing Images and Videos Shared Online
Although the iPhone X has yet to launch anywhere in the world, Benjamin Geskin over the weekend began tweeting images and videos of the smartphone being unboxed for the first time, as well as a few pictures of the device preparing for shipment. Images of the iPhone X's retail packaging appeared on Apple's website following its announcement in September, but we haven't yet been able to catch a glimpse of the inside of the box.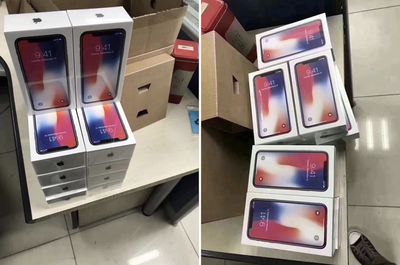 In the
first few Tweets
, Geskin shared images of the iPhone X stacked and ready to ship, and you can catch more glimpses of the side of the packaging in a
separate video
. Unlike the iPhone 8's rear-focus cover art, the iPhone X packaging depicts the smartphone's large OLED display.
Geskin then Tweeted a link to Instagram user abraham950, who posted a brief unboxing video of the iPhone X. The video shows that the first thing you see when you open the box is Apple's "Designed by Apple in California" information packet, and below that sits the iPhone X itself.
In another Tweet, images were shared from an Instagram post that has now been deleted, showcasing a
Silver iPhone X from Europe
in the process of being unboxed.

One mobile retailer in Dubai has also received the iPhone X, with a user
posting an Instagram video
of the package as well as a quick shot of the setup screen and back of the device. In a video shared by the Instagram account
@theapplehub
, a user in Milan, Italy provided a glimpse at the setup process (which is impossible to complete right now because the device can't be activated yet), and zoomed in on the vertical dual-lens camera of the iPhone X.
As we near launch day on Friday, November 3, even more in-depth unboxing videos of the iPhone X will appear online as users in New Zealand and Australia begin receiving their devices. The first wave of iPhone X reviews also began arriving online today, including original iPhone reviewer Steven Levy's impressions of the device.