Leaked watchOS 4.1 GM Release Notes Confirm Apple Music Streaming, GymKit Support
Release notes for the watchOS 4.1 golden master were leaked this afternoon by developer Guilherme Rambo, confirming all of the bug fixes and feature updates that we can expect to see in the new watchOS software.
Much of what's listed in the release notes was already known because the features are available in the beta, but the notes confirm GymKit support and highlight several bugs that are being addressed in the update.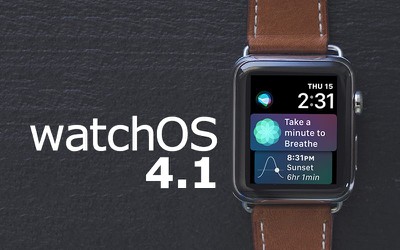 watchOS 4.1 introduces streaming music on Apple Watch Series 3, and it includes a new Radio app, which is limited to watchOS Series 3 models. Though not listed in the release notes, the update also offers several new Unicode 10 emoji. Full GM release notes are below:
New features, improvements, and bug fixes include:

- Stream music on Apple Watch Series 3 with Apple Music or iCloud Music Library
- Listen to live radio on Beats 1, custom stations, and expert-curated stations with the new Radio app on Apple Watch Series 3
- Use Siri to find, discover, and play songs, playlists, or albums
- Sync fitness data with GymKit-enabled treadmills, ellipticals, stair steppers, and indoor bikes for more accurate distance, pace, and energy burn metrics
- Ability to disconnect from a WiFi network in Control Center for Apple Watch Series 3 (GPS + Cellular)
- Fixes an issue for Apple Watch Series 1 and later where Heart Rate notifications were delivered when the feature was not enabled
- Fixes an issue where some users did not receive Stand Reminders
- Resolves an issue where the current stand hour indicator did not appear for some users
- Resolves an issue that caused haptics to not be delivered for silent alarms
- Addresses an issue that prevented Apple Watch (1st generation) from charging for some users
- Resolves an issue where the Sunrise and Sunset complication would sometimes not appear
- Restores Mandarin as the default dictation language for China
As these are not final release notes, there could be additions or tweaks to the information ahead of when the new watchOS 4.1 update is released to the public. There is as of yet no mention of Apple Pay Cash, Apple's new peer-to-peer payments service, so it continues to be unclear if that feature is going to be bundled into the iOS 11.1 and watchOS 4.1 updates.
Apple employees are currently testing Apple Pay Cash as part of iOS 11.1, but support for the feature could be held back until a later update.
It's not yet clear when Apple will launch watchOS 4.1, but a release could come as soon as next week alongside iOS 11.1, macOS 10.13.1, and tvOS 11.1 if Apple is aiming to get all of its new software updates out ahead of the debut of the iPhone X.