Angela Ahrendts' Makeover of Apple Retail Outlined in New Profile
A new profile of Apple retail chief Angela Ahrendts has been posted today by BuzzFeed News, providing a look into Ahrendts' move from Burberry, the inspiration for her approach to retail from late Apple CEO Steve Jobs, and her partnership with Apple design chief Jony Ive. Ahrendts has been in the spotlight lately following her presentation during the iPhone X keynote event in September, where she explained Apple's new retail initiative, Today at Apple, and provided a sneak peek into upcoming locations around the world.
Ahrendts said that her approach to the new retail strategy began with an inspiration from Steve Jobs, comparing the brick-and-mortar locations as the retail team's "hardware" and the inner workings of the store -- like Today at Apple programs -- as the "software."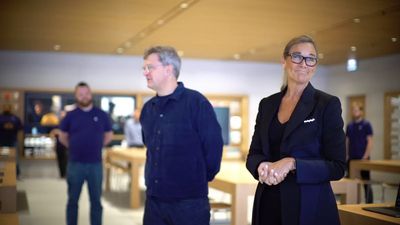 Ahrendts's approach to retail harkens back to the late founder Steve Jobs' insistence on building "the whole widget" — in other words, constructing the look and feel of a device, as well as making the operating system and the processor that runs it, in order to fully optimize — and control — the entire user experience.

"This is our hardware," she said, pointing to the Indianapolis store's glass doors and indoor ficuses. "Then you say, 'What's the software of the store? How do we turn it on?' Because this unto itself is magnificent, but it's not just what it is, it's what it does," referring to the new Today at Apple program, under which locations host events like photography workshops and coding classes.
Ahrendts has tweaked parts of Apple's retail "software" by changing employee t-shirts to a softer material, and removing lanyards so employees "make a human connection" with customers. One former Apple Genius said that while removing lanyards made uniforms "cleaner," the high amount of customers visiting Apple every day is a "reality of retail" that made connecting with every customer difficult.
When she was creating her strategy, Ahrendts discussed the design and look of the new Apple locations with Jony Ive, who was said to have told Ahrendts, "Don't mess with the tables," referring to the iconic wooden tables that line every Apple store. Ive further described these tables as "sacred."

Before embarking on the redesign, Ahrendts consulted creative chief Ive, whom Steve Jobs once called his "spiritual partner." "In one of those very early conversations," Ahrendts recalled, Ive "said, 'Don't mess with the tables. They're the same tables we used in our design studio and I love that it goes from the studio to the stores.' He said, 'They're sacred.'"
Ahrendts also recalled the company's expansion into China, where she asked all United States retail employees if they would be interested to move overseas and assist in running new stores in China. The executive said she was expecting 100 or 200 responses, but ended up with 2,000, half of which ended up moving overseas with plans to stay for between 1 and 5 years. Those who remain in the U.S. said that under Ahrendts' leadership, worker benefits have improved.

All of the employees who spoke to BuzzFeed News agree that Ahrendts improved their benefits soon after she joined in May 2014. For example, Ahrendts introduced restricted stock units, or gifted Apple stock (which could previously be purchased at a discount), that vests every three years. She also extended school tuition reimbursement to part-time workers. Most said they were happy with their pay, which ranges from $17 to $20 an hour for non-Genius roles and up to $30 an hour for Geniuses.
Still, some employees have described their work as starting to feel "increasingly corporate" under Ahrendts. One technical specialist stated that Apple retail "now feels more like a Circuit City, a Best Buy" because of increased micromanagement, rising repair prices, a focus on moving customers in and out of the store as fast as possible, and an "emphasis" on attracting business accounts.
The rest of the profile on Ahrendts covers much of the same ground as BuzzFeed's iPhone 8 launch video about Apple's "war room," as well as an interview with CEO Tim Cook and Ahrendts posted yesterday. In that interview, Ahrendts said it was "fake news...silly" that she was being groomed as future Apple CEO. Cook then said, "I see my role as CEO to prepare as many people as I can to be CEO, and that's what I'm doing."
Check out the full BuzzFeed News article on Angela Ahrendts here.