Apple's 'App of the Day' Feature Boosts Downloads Up to 2,172%
With the launch of iOS 11, Apple introduced an entirely revamped App Store that includes a "Today" feature for prominently featuring app content.
"Today" includes both an "App of the Day" and a "Game of the Day" feature, with apps that are swapped out daily, and as it turns out, getting featured as an app or game of the day can result in a huge boost in downloads for developers.
According to 30 days of data sourced by Apptopia (via TechCrunch), apps and games that are featured see a major surge in downloads. An app featured on a weekday could see a download boost of up to 2,172 percent.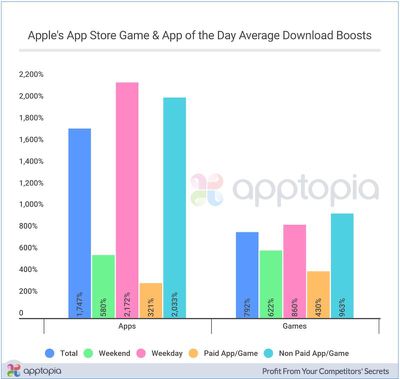 While games are often some of the most downloaded apps in the App Store, it's apps that see a bigger increase in downloads from being featured. Games, for example, see a maximum gain of 963 percent, and that's for a free game.
On average, in total, games see a 792 percent boost from an App Store feature, while apps see a 1,747 percent boost.
Free apps and games are of course more popular than paid apps and games, receiving much higher interest overall when featured. Weekday featuring also resulted in higher download gains than weekend featuring.
To gather its data, Apptopia looked at apps and games that have been featured by Apple over the course of the last 30 days. 5 out of 30 apps of the day were paid apps and 11 of 30 games were paid games.
Apps that are not as well established and well-known did better than apps that are already widely downloaded. As an example, Starbucks was featured and was downloaded only a "handful" of times more than the day before it was featured, as most people who would use the app likely already have it.
Apps that were already ranking within the top 20 of their respective category before being featured, only received an average download boost of 44%. For games ranking within the top 20 of the Games category, it was 37%.
Apple's App Store feature boosted a total of 19 apps from being unranked overall to being ranked on the overall charts, which, in some instances, means an app jumped more than 1,000 rank spots.


The new App Store in iOS 11 is a radical departure from the way the App Store was set up in iOS 10, as it splits apps and games into two distinct App Store categories to bolster app discovery. In addition to featuring an App of the Day and a Game of the Day, Apple also highlights apps through interviews, behind-the-scenes looks, app lists, and more, which also likely bring significant attention to developers lucky enough to be chosen for a feature.