Nearly two weeks after relaunching, Twitterrific for Mac has received its first major update today with over a dozen improvements.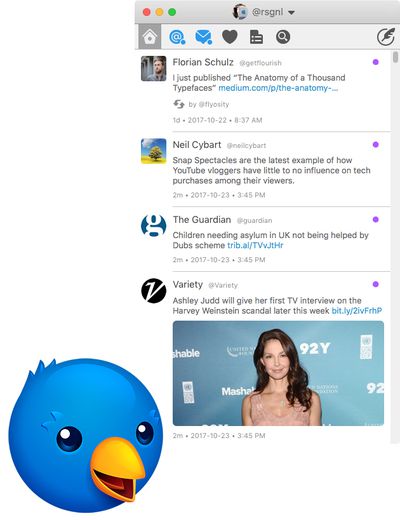 A key new feature is the option to keep the timeline pinned to the top like Tweetbot for Mac. When the feature is enabled in Preferences > General, tweets flow into the timeline persistently without having to manually scroll up.


There's also a new Muffles tab in the Preferences menu for adding and deleting muffles, which minimize tweets containing any users, links, hashtags, or keywords you list without removing the tweets from your timeline entirely.
Muffles are a powerful way to hide certain users, links, hashtags, or keywords from your timeline. The best way to think of them are like lighter versions of muting. Muffling does not remove filtered tweets from your timeline entirely, but instead minimizes them, out of the way of your reading experience. Muffled tweets appear as a single line in your timeline, with a short description of what has been hidden. This lets you to scroll through your filtered timeline while still allowing you to interact with filtered tweets if you wish.
Other improvements include status indicators for new mentions or messages in the Dock and menu bar, a right-click "Mark as Read" option for direct messages, improved image caching, new font options, and more.
The update includes a handful of bug fixes. Changing appearance settings now updates message threads correctly, for example, while the thread indicator on a tweet no longer disappears when you retweet. Links to Vimeo now open in a browser.
Twitterrific 5.1 for Mac is available as a free update on the Mac App Store [Direct Link]. The app is $19.99 for new users.