Quicken today announced the launch of the 2018 version of its popular finance and budgeting software for the PC and Mac.
Quicken 2018 introduces access to online bills from more than 11,000 companies, all of which are integrated into a streamlined bill and payment dashboard. The bill management center is designed to let Quicken users manage all of their bills in one place, with features like downloading PDFs of each bill.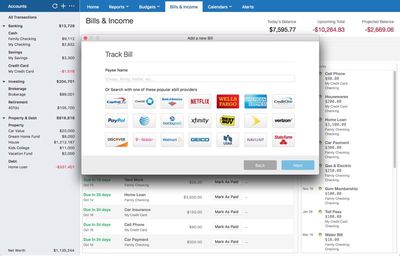 The software also includes expanded investment capabilities with more specific lot tracking and a more customizable portfolio view, along with new loan tracking features that include "what-if" loan analysis.
"We are always listening to customer feedback and the 2018 releases of Quicken reflect the balance of new features and refinements to existing capabilities that we know our users want," said Eric Dunn, chief executive officer of Quicken. "With our latest products, Mac offerings are more robust, our interfaces are more intuitive, and our new membership program ensures that customers always have the latest and greatest Quicken without the pain of manually upgrading."
Quicken 2018 for Mac offers Mac users access to Quicken Starter, Quicken Deluxe, and Quicken Premier for the first time, allowing Mac users to choose the best Quicken software to meet their financial needs. Previously, these separate versions of Quicken were limited to Windows users.
The software offers different features depending on version, with Deluxe and Premier offering features for creating budgets, creating multiple savings goals, and tracking loans and investments. Premier offers investment evaluations, tax reports, and automatic updates to estimated home value.
With this change also comes a shift to a subscription-based service. Instead of purchasing upgrades each year, Quicken customers will automatically receive the latest version of Quicken as long as a membership is maintained, with one and two-year memberships available.
All of the 2018 versions of Quicken will include 5GB of cloud storage for Quicken backups provided through Dropbox.
Quicken 2018 Starter is priced at $34.99 for a one-year membership and $49.99 for a two-year membership, while Quicken Deluxe is priced at $49.99 for one years and $79.99 for two years.
Quicken Premier, the highest tier software available for Macs, is priced at $74.99 for a one-year membership and $119.99 for a two-year membership.