Billboard Charts Will Put 'Greater Emphasis' on Paid Streaming Services Like Apple Music in 2018
Billboard has announced that its Hot 100 and Billboard 200 charts -- which measure singles and albums, respectively -- will begin weighing plays made on paid subscription streaming services/tiers more than plays made on pure ad-supported services/tiers in 2018. This means services that only support paid subscriptions, like Apple Music, will receive a "greater emphasis" in Billboard chart calculations.
The Billboard calculations will include plays made on paid subscription tiers of hybrid services as well, related to Spotify and SoundCloud. For the Hot 100 list, Billboard said that there will now be "multiple weighted tiers" of streaming plays, with paid subscription at the top, then ad-supported streams, and programmed streams. Besides streaming, radio airplay and digital song sales are also still accounted for.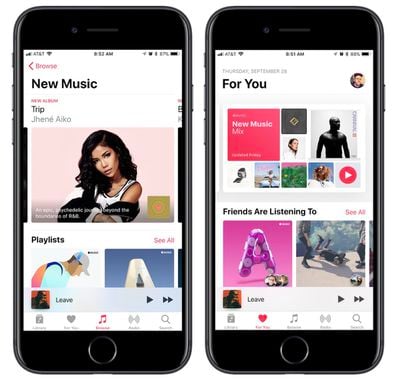 Currently, the Billboard Hot 100 chart weighs streaming music from services like Apple Music, Spotify, YouTube, and Amazon Music under one "on-demand" category, as well as having a "programmed" type for Pandora and other online radio services. In this setup, on-demand has a greater weight, but plays made through paid subscriptions aren't specifically given more weight over free tiers.
Billboard explained that this shift to a "multi-level streaming approach" reflects how much music listening has changed over the years, particularly with how popular exclusive songs and albums have become for streaming services, which lock this content behind paid subscriptions. These changes not only affect the Hot 100, but also the Billboard 200 and "many other charts," with the media company stating: "It is our goal at Billboard to accurately portray in an unbiased manner how music performs relative to other music."

Beginning in 2018, plays occurring on paid subscription-based services (such as Amazon Music and Apple Music) or on the paid subscription tiers of hybrid paid/ad-supported platforms (such as SoundCloud and Spotify) will be given more weight in chart calculations than those plays on pure ad-supported services (such as YouTube) or on the non-paid tiers of hybrid paid/ad-supported services.

The shift to a multi-level streaming approach to Billboard's chart methodology is a reflection of how music is now being consumed on streaming services, migrating from a pure on-demand experience to a more diverse selection of listening preferences (including playlists and radio), and the various options in which a consumer can access music based on their subscription commitment.
The Billboard 200 chart, which tracks albums, only began to count streaming numbers back in 2014, one year prior to Apple Music's debut. Once the service launched, Apple Music plays were counted towards Billboard's Hot 100 and Billboard 200 charts beginning in August 2015. Other streaming providers that contribute to the charts include Spotify, Amazon Prime, Google Play, Medianet, Rdio, Rhapsody, Slacker, Tidal, and Groove Music Pass.