Billboard 200 Chart to Incorporate Digital Track Sales, On-Demand Streaming Music
Billboard is planning a major overhaul of its Billboard 200 chart in the coming weeks, which will take into account the growing popularity of streaming music. Billboard's new methodology will shift away from simply tracking album sales, adding both digital track sales and streaming music into its algorithm.
Published weekly, the Billboard 200 is a chart that ranks the 200 best selling music albums in the United States. At the current time, the Billboard 200 chart only takes into account retail (both physical and digital) album sales, but the addition of digital track sales and streaming music from services like Beats and Spotify will allow the chart to give a clearer picture of overall popularity by taking into account consumption activity rather than measuring based on straight sales.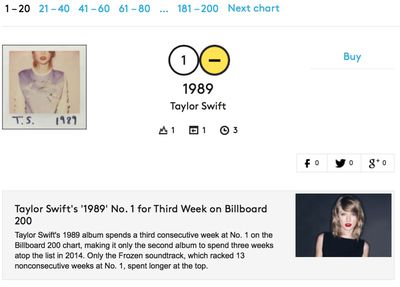 Beginning on December 3, and measuring data during Thanksgiving week, the Billboard 200 will count 10 individual song sales or 1,500 song streams as a standard album sale. Billboard plans to incorporate data from every major streaming audio subscription service, including Spotify, Beats Music, Google Play, and Xbox Music. Ad-supported radio services like Pandora and iTunes Radio will not be counted, as Billboard is only planning to focus on on-demand services.
"Adding streaming information makes the chart a better representation of music consumption activity," says Silvio Pietroluongo, VP of charts and data development at Billboard. "While an extremely valuable measurement, album sales would mostly capture the initial impulse only, without indicating the depth of consumption thereafter. Someone could listen to the album just once, or listen to one track or a number of tracks 100 times. We are now able to incorporate those plays as part of an album consumption ranking throughout one's possession of an album, extending beyond the initial purchase or listen."
According to Billboard, incorporating individual song sales and streaming music could see some artists moving up the charts, including Ariana Grande and Maroon 5, both of which have higher streaming and digital song sales than album sales.
The methodology change was done under the guidance of music industry executives, to represent the growing popularity of streaming music services. According to Nielsen and Billboard's mid-2014 Music Industry Report [PDF] on-demand streaming music sales were up 42 percent year-over-year, with streams surpassing 70 billion songs.
On-demand streaming music services are now in over a hundred countries, and the most popular streaming service, Spotify, now has more than 10 million subscribers. Non-paid radio-style streaming services like Pandora have also exploded in popularity, with Pandora hitting 76.4 million active monthly users back in August.
Apple's own streaming music service, Beats Music, had only 110,000 subscribers when it was purchased by Apple, but it may see an explosion in growth next year as Apple is said to be planning to rebrand the service with a lower price. It may also be incorporated into iTunes and bundled onto iOS devices directly.
Though Billboard has plans to update its Billboard 200 chart with new methodology that takes into account streaming music services, a pure album sales chart called Top Album Sales will also be published to maintain the existing Billboard 200 methodology. Genre album charts will also continue to be sale-based at the current time.