Rite Aid today announced that it now accepts Apple Pay as a payment method on its desktop and mobile website.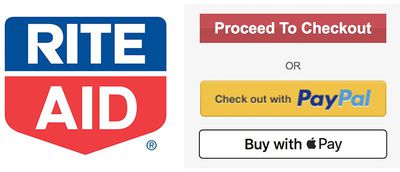 iPhone, iPad, and Mac users accessing RiteAid.com through the Safari web browser will now see a "Buy with Apple Pay" option at checkout alongside existing credit card and PayPal payment options.
Rite Aid said it is the first pharmacy retailer to accept Apple Pay as a form of payment on the web, with nearly 12,000 items available in its online store.
Apple Pay on the web is a convenient and secure option for online payments, eliminating the need to repeatedly fill out account, shipping, and billing information for a more seamless checkout experience.
Checking out with Apple Pay on the web requires a Mac, iPhone, or iPad with Touch ID and Safari for macOS Sierra or iOS 10 or later.
Rite Aid began accepting Apple Pay at 4,600 of its retail stores across the United States in August 2015, nearly one year after the drug store chain initially disabled support for the mobile payments service nationwide.
At the time, Rite-Aid was a member of the Merchant Customer Exchange, a consortium of retailers that planned to launch their own mobile payments service called CurrentC, which was postponed indefinitely last year.