Jony Ive Says Apple's New Flagship Chicago Store is About 'Reviving Important Urban Connections'
Apple today previewed its new Michigan Avenue store along the Chicago River ahead of its grand opening on Friday.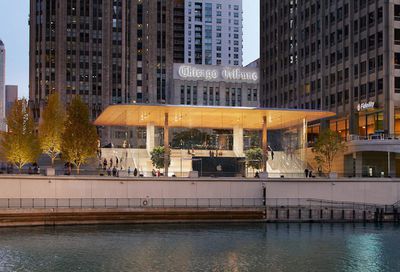 Apple shared new pictures that provide a look at the store's 32-foot glass facades and 111-by-98 foot carbon-fiber roof. Two staircases lead to the store's lower level, featuring indoor trees and a seating area for Today at Apple sessions.
The flagship store is designed to create a new connection between North Michigan Avenue, Pioneer Court, and the Chicago River.
"Apple Michigan Avenue is about removing boundaries between inside and outside, reviving important urban connections within the city," said Jony Ive, Apple's chief design officer. "It unites a historic city plaza that had been cut off from the water, giving Chicago a dynamic new arena that flows effortlessly down to the river."


The store was designed by Apple's longtime architectural partner Foster + Partners, and pays homage to architect Frank Lloyd Wright's Prairie Style homes in Chicago. Based on plans from 2015, the building spans 20,000 square feet and replaces a vacant food court. The store took over one year to construct.
A lengthy staircase leads from street level to a walkway in front of the store. The building will also be accessible via elevator.


On Monday, the store will also launch "The Chicago Series," a set of five programs, each with a different area of focus at the intersection of technology and liberal arts, hosted over the course of four weeks. Apple said each program is co-created with local non-profits and creative organizations.
Apple retail chief Angela Ahrendts is in Chicago today and tweeted a picture of herself alongside some of the store's employees.

"Apple Michigan Avenue exemplifies our new vision where everyone is welcome to experience all of our incredible products, services and inspiring educational programs in the heart of their city," said Ahrendts.
Apple Michigan Avenue opens Friday, October 20 at 5:00 p.m. local time. The store is located in Pioneer Court at 401 North Michigan Avenue, next to the Michigan Avenue Bridge in Downtown Chicago.
Apple said its original North Michigan Avenue store, which was its first flagship location, welcomed more than 23 million visitors since opening in 2003. The store, just down the street from the new one, permanently closed today.
Apple has nearly 500 retail stores around the world that collectively welcome over 500 million visitors per year.