Apple's Beddit 3 Sleep Monitor 'Sold Out,' Suggesting It's Been Discontinued
Apple in May purchased Beddit, a company that develops health-related hardware. It was an unusual acquisition because Apple continued to sell the company's Beddit 3 Sleep Monitor on Apple.com, and collected sleep data from the device.
As of early October, though, the Beddit 3 Sleep Monitor has been listed as "Sold Out" on Apple's website, suggesting it has perhaps been quietly retired. When an Apple product is sold out, that typically means it's not going to be restocked. Since the Apple acquisition, the device has only been sold at Apple.com and is not available elsewhere either.


With the Beddit 3 Sleep Monitor no longer available, it's not known what Apple will do with the Beddit sleep technology in the future. Apple could be planning to use the data it's collected to add more advanced health tracking and sleep monitoring into the Apple Watch, or it could roll the technology into some other kind of wearable device or hardware product similar in design to the Beddit 3.
Sleep tracking could be a planned feature for a future Apple Watch, but it remains to be seen if Apple thinks a wrist-worn sleep tracking device is the optimal solution. It is also not clear how Apple would overcome charging and battery life issues in that scenario, as Apple currently expects the device to be charged overnight. Given those limitations, other hardware solutions could be under consideration.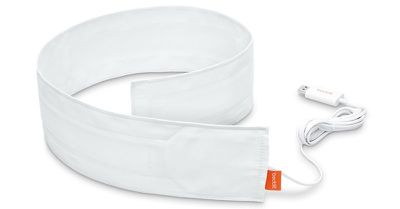 Apple is presumably continuing to collect, analyze, and utilize sleep-related data from the existing Beddit 3 sleep tracking devices that are in the hands of consumers, even if no additional devices will be sold.
Priced at $149 when it was available, the Beddit 3 Sleep Monitor pairs a thin, pliable under-sheet sleep sensor with an app that's designed to help users analyze and improve their sleeping habits.
It uses ballistocardiography (BCG) to measure the mechanical activity of the heart, lungs, and other body functions, a non-invasive monitoring technology that's similar to the light-based photoplethysmography the Apple Watch uses to monitor heart rate. BCG is able to measure the mechanical impulse generated by the acceleration of blood through the circulatory system, providing a wealth of data about the body.


The sleep monitor is able to track metrics like sleep time, sleep efficiency, heart rate, respiration rate, movement, snoring, room temperature, and room humidity. Following Apple's Beddit acquisition, we did an in-depth review of the Beddit 3 Sleep Monitor and concluded that there are still many hurdles Apple needs to overcome to create a sleep tracking device that's truly accurate, if a hardware solution is the ultimate goal of the purchase.
We've contacted Apple for comment on the availability of the Beddit 3 Sleep Monitor and will update this post should we hear back.