Fabless semiconductor company Himax Technologies has begun shipments of chips based on wafer-level optics (WLO) technology to Apple, according to industry sources (via DigiTimes). The solution is reportedly a key component of the Face ID facial authentication sensor exclusive to the upcoming iPhone X.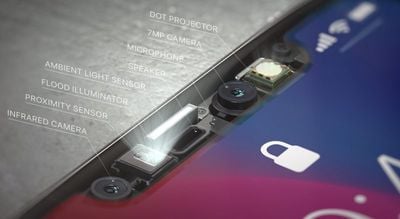 ChipMOS Technologies will also see revenues generated from orders for WLO chips increase substantially later in 2017 as the backend house has cut into the supply chain for the iPhone X by partnering with Himax, said the sources. ChipMOS' revenues from orders for WLO chips are expected to reach between NT$50 million (US$1.66 million) and NT$60 million, up from the current NT$20-30 million, the sources indicated.
Apart from Apple's demand for the WLO chips, HiMax and its backend partner ChipMOS are gearing up for a busy 2018, with Android phone makers expected to follow Apple's lead by bringing facial recognition features to their own devices.
According to a recent research note by KGI Securities analyst Ming-Chi Kuo, Apple has tilted interest in the mobile industry away from under-display fingerprint recognition, and instead towards camera-based 3D sensing technologies as the ideal user authentication solution. Kuo believes the next two to three years will see shipments of 3D sensor-equipped Android devices to exceed those with under-display fingerprint recognition by a factor of two or three or more.
In line with Kuo's analysis, industry sources claim Qualcomm's recently announced 3D depth-sensing solution, jointly developed with Himax, is directly targeted at orders from the Android camp, with solutions from Orbbec and Mantis Vision also jostling to business. Himax and ChipMOS declined to comment on specific customers and orders.
In related news, supply chain sources speculate that Apple may delay iPhone X shipments otherwise the supply of the device could be limited this year due to yield problems with key components for new features that require 3D sensing modules. Apple is allegedly waiting to see how many iPhone X pre-orders it receives, and monitoring how well the already-released iPhone 8 and iPhone 8 Plus sell, before fully ramping up production overseas.
A report last month claimed Apple's suppliers are shipping only about 40 percent of the components originally planned for initial production of the iPhone X, with Kuo subsequently claiming the 3D sensing components used in the TrueDepth camera, which represents a far more complex structure than those of rivals, may be the main production bottleneck.
Kuo said shipments of iPhone X components will likely ramp up in mid to late October. Given pre-orders begin October 27, with in-store availability starting November 3, all signs point towards the iPhone X being in extremely short supply.