Sonos Rivals HomePod With New Assistant Speaker, Adding AirPlay 2 Support to Speakers Next Year
Sonos today introduced the Sonos One, an all-new smart speaker with six far-field microphones that allow it to work with digital assistants.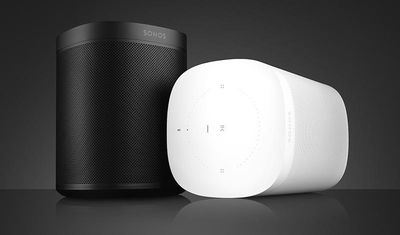 Sonos One can be controlled entirely with voice. At launch, it will support Amazon Alexa in the United States, Germany, and the United Kingdom, including full voice support for Prime Music, iHeartRadio, Pandora, SiriusXM, and TuneIn. Alexa voice control for Spotify will be coming soon after launch.
Google Assistant support will be added in 2018, making the Sonos One the first smart speaker with support for multiple major assistants.
Sonos One can play music from more than 80 streaming services, including popular ones like Apple Music, Spotify, Google Play Music, Tidal, and Pandora. In addition, it supports other traditional Alexa capabilities related to the weather, timers, news and traffic reports, the latest sports scores, and more.
Sonos is releasing a free software update today that will enable many of its existing speakers to be controlled with Alexa as well. In the United States, Germany, and the United Kingdom, Sonos owners can use any Alexa-enabled device like the Echo or Echo Dot to control the speaker with voice commands.
Sonos also announced that it will begin supporting Apple's AirPlay 2 in 2018, making it possible to play any sound from an iOS device on Sonos speakers. Apple users will also be able to control music on Sonos speakers with any Siri-enabled device, such as an iPhone, iPad, and the HomePod once it launches.
Sonos One comes in black or white, weighs four pounds, and has an illuminated LED indicator light to ensure you are always aware when the speaker's microphone is active. The speaker connects to a home's Wi-Fi network, and it also has one 10/100 Mbps Ethernet port for those who prefer a wired connection.
The speaker features premium audio quality, with two Class-D digital amplifiers tuned to match the speaker drivers and acoustic architecture, one tweeter, one mid-woofer, adjustable bass and treble controls, and a six far-field microphone array used for advanced beamforming and echo cancellation.
Sonos One will be available starting Tuesday, October 24 for $199 in the United States. Pre-orders start today.