Alongside its UltraFine 4K and 5K displays developed in partnership with Apple, LG offers an LG Screen Manager app for Mac that serves to manage various functions of the display, including handling firmware updates for the display itself, accessing windowing features such as automatic splitting of the desktop into up to four sections, and more. LG Screen Manager includes a menu item for quick access to its desktop splitting features, as well as a full app for more advanced features.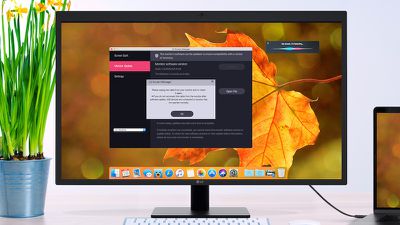 Recently, LG released an updated version of LG Screen Manager for macOS High Sierra, ensuring compatibility with the latest Mac operating system and debuting a new notification system that will automatically alert you whenever there are updates for your display.
In addition to the new compatibility and update notifications, the latest update to LG Screen Manager includes tweaks and enhancements for the display firmware that were rolled out earlier this summer. Among those tweaks is fine tuning of the volume curve, which addresses some early complaints about the volume control not being fine enough at the low end of the range with a significant increase in volume between even the first and second levels. The new volume curve allows for much finer adjustment at the low end.
Other features in the display firmware update include improvements to low-light performance of the camera and better compatibility for devices connected to the three downstream USB-C ports on the rear of the display.
The updated LG Screen Manager app, version 2.08, is available for download from LG's support site.