iOS 11 gives developers access to the NFC chip in Apple's most recent iPhone models for the first time, allowing for apps that are able to read NFC tags in places like museums and retail stores.
The MLB today announced that the Oakland Athletics have tested a new ticketing feature that takes advantage of NFC, letting users enter the stadium by tapping an iPhone to a ticket scanner, much like Apple Pay.
The test was conducted during six games starting on September 22 following the launch of iOS 11, and as TechCrunch points out, it marks the first time that a professional sporting event has supported contactless tickets in Apple Wallet. Tap to enter isn't radically different than scanning a barcode on a virtual ticket on an iPhone, but it's faster and less prone to errors.
Following this test, the feature, being developed by Tickets.com, will be rolled out ahead of the 2018 season for the 23 MLB teams that use Tickets.com for ticketing purposes.
NFC has been a supported feature in iOS devices since Apple Pay first launched, but Apple previously limited its use to contactless Apple Pay payments. A new Core NFC iOS 11 framework expands the functionality of the NFC chip, introducing a new "Reader Mode" supported in the iPhone 7, iPhone 7 Plus, iPhone 8, iPhone 8 Plus, and iPhone X.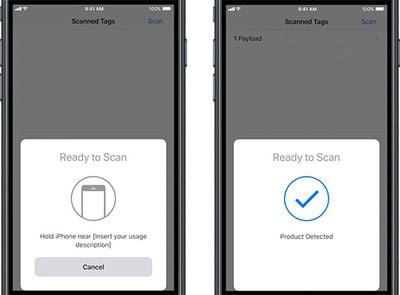 With Reader Mode and a compatible app, an iPhone that's near a real-world NFC tag can recognize and read the tag, opening a linked website or providing other information about whatever's being scanned.

An example of an NFC tag at a botanical garden


NFC tags are already used in a variety of places like landmarks, botanical gardens, stores, museums, and more because Android devices have been able to read NFC tags for some time. Apple's adoption of the feature is more limited than Android because it requires companies to build an app with NFC support to read NFC tags, but it could spur wider adoption of NFC functionality.