Google is working on a tabletop smart screen for video calling and more that will go up against Amazon's Echo Show, according to sources who spoke to TechCrunch.
The Google device is internally codenamed "Manhattan" and will have a screen size similar to the 7-inch Echo Show, said two sources, one of whom reportedly received information directly from a Google employee. The device is said to run a version of Android, meaning it could be capable of running third-party apps, with Netflix being mooted as a possibility.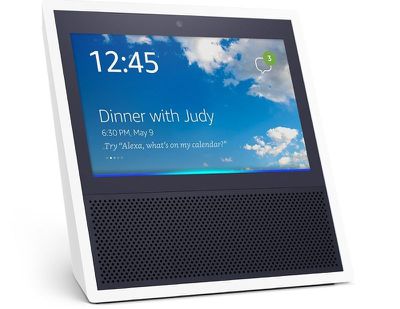 Amazon's Echo Show device.
Both sources claim the device will offer access to Google Assistant, Google Photos, and YouTube – which goes some ways to explaining why the latter video service was
unceremoniously pulled
from Amazon's Echo Show on Tuesday.
Google's device will also reportedly work as a smart hub for controlling other connected smart home gadgets and appliances, similar to Amazon's new Echo Plus speaker unveiled earlier this week.
According to TechCrunch's sources, the original target launch date for the Manhattan device was mid-2018, but Google is apparently under intense pressure to get the product out the door before the end of this year, given that the Echo Show is already on the market. Google has a hardware event scheduled for October 4, but it's unclear if the device will make an appearance.
Other rumors floating about suggest the tech giant is readying an upmarket version of its Google Home smart speaker to rival Apple's upcoming $350 HomePod. Known internally as "Google Home Max", the "premium" device is said to feature stereo speakers housed in a high-quality design.
Thanks to leaks, we already know that Google will announce a mini version of its Google Home speaker at its hardware event, alongside new Pixel smartphones and a rebranded Google Pixelbook. But there's also talk of $159 Google-branded Bluetooth earbuds on the way with Google Assistant built-in.
Whatever the exact line-up of products the company drops on October 4, stay tuned to MacRumors for a full summary immediately following the event next week.