Amazon Launches New $99 Echo Speaker With Better Sound and $149 Echo Plus Smart Home Hub
At an event in Seattle this morning, Amazon unveiled its next-generation Amazon Echo speaker, which features a new smaller design and better sound than the original Echo to compete with products like Apple's upcoming HomePod.
Apple focused heavily on sound quality as a way to differentiate the HomePod from existing smart speakers like the Google Home and the Amazon Echo, with a 7 tweeter array, a 4-inch upward-facing woofer, and an A8 processor capable of advanced acoustic modeling and spatial awareness. Shortly after the HomePod was unveiled, rumors of a higher-end Echo surfaced.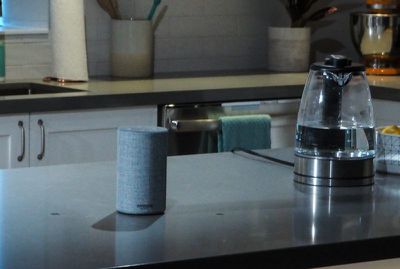 Amazon's new Echo supports Dolby Audio and it has a dedicated woofer and tweeter, features Amazon says bring better sound. It also includes second-generation voice recognition capabilities, second-generation far-field microphone technology, and support for multi-room audio so several Echo devices can be used together.
The Echo is made from metal and is wrapped in a fabric shell, which can be swapped out with other shells for customization much like the Google Home. Amazon is offering six shells for the Echo.
Amazon plans to charge $99 for the new Echo, making it much more affordable than the HomePod, which will be priced at $349 when it launches in December. Pre-orders for the new Echo are available today.
There's also a new Echo Plus, with built-in Zigbee functionality for smart home hub functionality and all of the same improvements in the new Echo model. It's designed to work with a wide range of smart home products right out of the box, with over 100 partners signed up. Echo Plus is similar in design to the original Echo, while the new $99 Echo is smaller and shorter. Amazon is charging $149 for the Echo Plus, and it comes with a free Philips Hue bulb.
Echo Buttons, also new, are priced at $20 and are designed to allow Echo owners to play trivia games with the Echo, and the Echo Spot is a new Echo device that features a 2.5-inch circular display. It's a cross between an Echo and a smart alarm clock with a price tag of $130.
Along with the new Echo models, Amazon announced the $35 Echo Connect, a device that's designed to plug into a phone jack on one side and an Echo on the other, allowing the Echo to be used as a telephone able to accept calls from a person's standard home phone number. The Echo Connect is also available for pre-order today. Amazon Echo speakers are also gaining call functionality that will let them make phone calls to any number.