Apple has shared a new page for its upcoming Michigan Avenue store along the Chicago River, set to open Friday, October 20.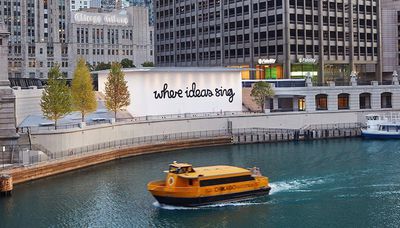 Apple Michigan Avenue via Apple retail chief Angela Ahrendts
Apple starts out with a tribute to the city:
Chicago's creative roots run deep. It's where house music and rock and roll first took the stage. Where world-famous architecture lives. And where contemporary art thrives. Along the Chicago riverfront where the city was founded, we're opening Apple Michigan Avenue. A space for the next generation of creative pioneers to come together, connect, and share their talent.
Apple has partnered with Chicago rapper Saba to create a campaign centered around his new single "Where Ideas Sing" released last week.

"Where Ideas Sing" construction barrier via MacRumors reader Brad Fosler
The so-called "city anthem" was brought to life by public artist Matthew Hoffman, who created a large "Where Ideas Sing" wrapping with lyrics adorning the glass windows of the upcoming store. There's also a message to pedestrians:
On this historic site where the city was first founded, we celebrate the opening of the all-new Apple Michigan Avenue. These lyrics are from "Where Ideas Sing," an anthem written by hip-hop artist Saba and brought to life by public artist Matthew Hoffman. The spirit of this collaboration, like the store itself, was inspired by the vibrant energy of this great city. And here, we're setting a new stage for creativity in Chicago, right where it started.
The store will be located at 401 North Michigan Avenue next to the Michigan Avenue Bridge in Downtown Chicago.
Apple currently has a nearby store at 679 North Michigan Avenue that opened in 2003. It will permanently close after October 19.
Read more about the new store in our earlier coverage.
(Thanks, Storeteller!)