Apple retail chief Angela Ahrendts this week announced that the iPhone maker's upcoming store along the Chicago River opens Friday, October 20.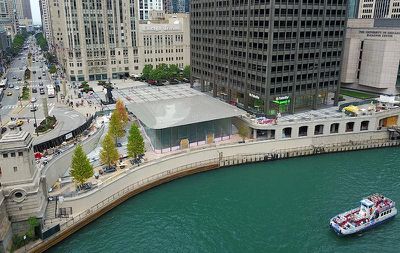 Apple's new Chicago River store via MacRumors reader David Sexton
The two-floor store will be located on North Michigan Avenue, near the historic Michigan Avenue Bridge, along the river's north bank. The flagship location will feature glass walls and a carbon fiber roof, which at one point had a white Apple logo on it, making it
look like a giant MacBook Air
when viewed from above.
Apple has removed its logo from the roof as of late August, and it's unclear if it will be added back at some point.
The store was designed by Apple's longtime architectural partner Foster + Partners, and pays homage to architect Frank Lloyd Wright's Prairie Style homes in Chicago. Based on plans from 2015, the building spans 20,000 square feet and replaces a vacant food court. Construction has been ongoing for over a year.
A lengthy staircase leads from street level to a walkway in front of the store. The building will also be accessible via elevator.
Ahrendts, speaking at Apple's first-ever event at the Steve Jobs Theater on Tuesday, also said Apple's iconic Fifth Avenue store in Manhattan will reopen late next year. She said the glass cube at street level will eventually be reinstalled, and the lower level will be greatly expanded with a new design.
Ahrendts said Apple's retail stores collectively welcome over 500 million visitors per year. Apple has 497 stores around the world.
Apple's nearby store at 679 North Michigan Avenue opened in July 2003. It will permanently close on October 20.
Update: Apple has announced that its retail store at The Summit in Reno, Nevada will be relocating to a new location within the shopping center on Saturday, September 16 at 10:00 a.m. local time. The new location will presumably be larger and updated with Apple's newer store design. (Thanks, Storeteller!)